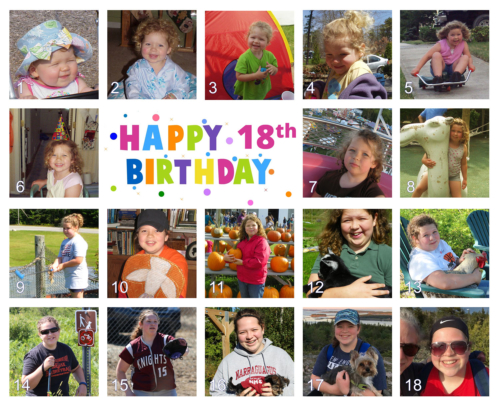 She's 18 today. In the blink of an eye, she's grown up. No longer is she the shy little girl who did her best not to stand out – all the while marching to her own tune. Hannah is a woman with young, yet strong convictions and ideals. I couldn't be more proud of her.
In honor of her birthday, here are 18 things about Hannah that make her Hannah.
She loves movies – everything about them.
She's a bit of a geek and proud of it.
She's a feminist – in the most positive sense of the word.
She's perfected the eye roll – especially when it comes to her dad.
She embraces sarcasm.
She likes the scent of lavender.
She loves to dissect a story or movie.
She enjoys rock and roll and classical music in the form of movie soundtracks.
She can't throw away an empty toilet paper tube for the life of her. (I just dropped this in to see if you were reading – but it's true!)
She's developed my "look" when trying to make a point.
She is passionate about civil rights.
She makes wonderful Spanakopita.
She LOVES dappled light; it never fails to make her smile.
She loses things in plain sight.
Her favorite food is lobster.
She's always ready for an adventure with me.
She has a good heart.
She is proud to be a Mainer.
Happy Birthday, Hannah!
Past Birthday Posts:
Seventeen
Sixteen
Fifteen
Fourteen
Thirteen
Twelve
Save
Save
Save