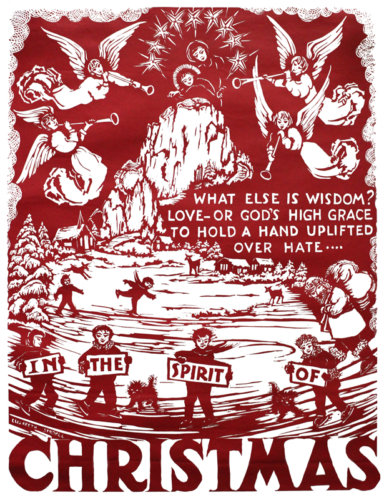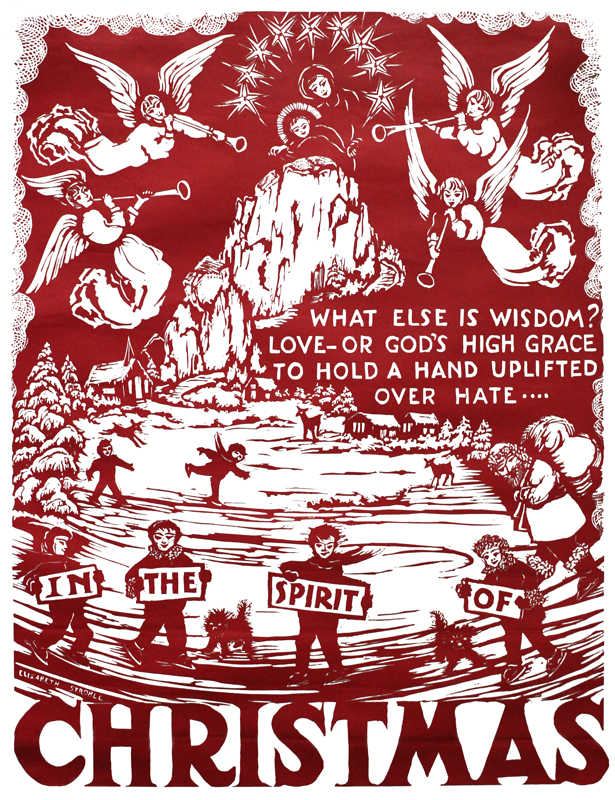 I sit here on a rainy Christmas Eve with my family watching Scrooge wondering where the time has gone. Didn't I just put away last year's Christmas decorations? The house smells yummy – cookies, cheesecake, munchies, bread, pineapple stuffing, and breakfast casserole cooked and ready to roll out tomorrow. Next year I'm going to remember to take time off from work before Christmas – not after!
As has become my tradition here, I'm sharing one of the my great, great aunt's linoleum block Christmas prints.
Elizabeth Stroble, my maternal grandmother's aunt, created this linoleum block print when she lived in St.Paul, Minnesota (1940s-1950s). This is one of a dozen or so posters that have been handed down to me. She sent these each year as her Christmas card. The message of this particular poster couldn't be more appropriate this year. It reads:
What else is Wisdom?
Love – or God's High Grace to hold a hand uplifted over hate…
I hope you and yours have a safe and happy Christmas filled with Peace and Joy.
Susan
Past Christmas linoleum block print posts:
24 Dec 2015
24 Dec 2014
24 Dec 2013
24 Dec 2012
24 Dec 2011
24 Dec 2010
Save