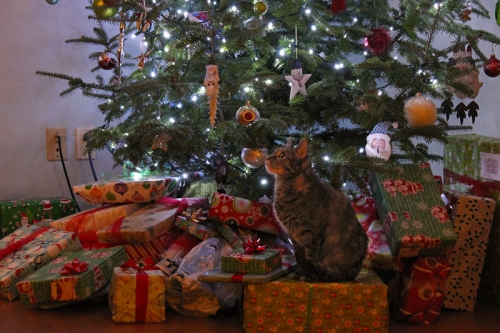 As I snuggled down in bed last night, Christmas Eve, I commented to Paul that Hannah didn't negotiate a wake-up time for Christmas morning. Our 15-year-old is growing up. What a gift to be able to sleep in on Christmas morning!
Yet, at 6:45 a.m. this morning I woke to her sitting on the side of my bed telling me it was time to get up, that Santa had come! Really?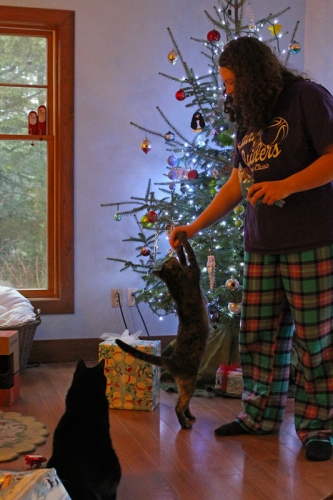 Hannah was not the only one to appreciate the wonder of the day. Even the kitties enjoyed their gifts. I was surprised to see that our packages had any bows left on them when I woke this morning. The cats have thoroughly enjoyed the playground that Christmas brings.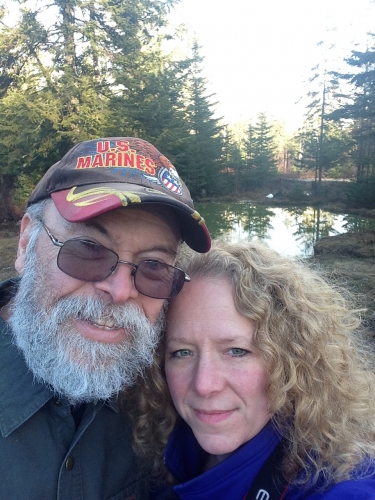 Our first non-white Maine Christmas, the appearance of the sun in itself was a precious gift. The most unique gifts opened under the tree this morning were the three matching bullhorns Granny Gadget sent us. You win this round, Mom! My own personal bullhorn. I do think this may come in handy.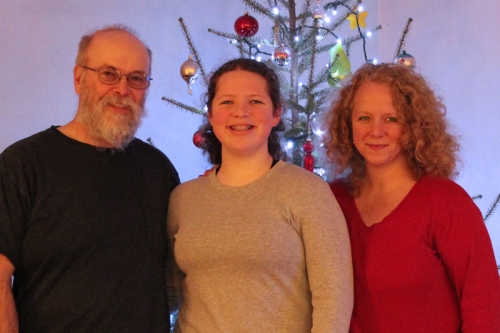 My greatest gift this Christmas wasn't the fabulous owl mug, the owl nesting box,  the cozy slippers, or even the bullhorn. It was enjoying a peaceful day in the company of those I love most.
Oh, and game of "Smart Ass" that Santa brought. I won.