For some time I've been searching for fabric to make sofa pillows. Finding a pattern I like that has the right colors? – robin egg blue, brown, green and a touch of red has been challenging. At least one that fits my budget – which is next to nothing.
A few weeks ago, my friend, Carol, offered me a tablecloth that she no longer used because she'd redecorated. Even though I don't have a square table to match the beautiful piece, I liked the pattern so much I accepted. The cloth laid over the back of a chair for weeks before it hit me.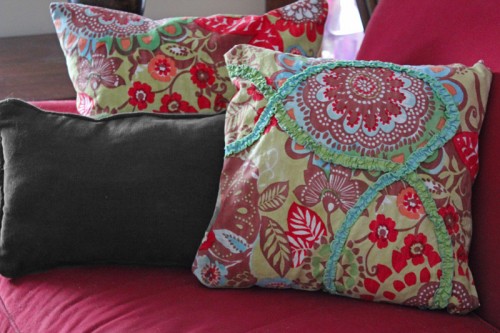 Green, turquoise, brown, and red – with a whimsical rickrack. This is the fabric for which I'd been searching! I cringed as I cut into Carol's beautiful tablecloth, but I'm pleased with the results: three square zippered pillows – two with the rickrack running through them.
As I started thinking about adding other pillows to my sofa mix, Paul put a brown corduroy shirt that was too large in the thrift store bag. Inspiration hit; I rescued it and fashioned it into a sofa pillow, using the rolled hem for cording.
Then, I was on a roll. I wanted to make another pillow – one that features my Downeast Thunder Farm owl family (the owls in the banner at the top of the page). I had the idea, but no fabric for the pillow squares – and I'm 40 miles from the nearest store that sells fabric. So I went back to that thrift store bag and found another of Paul's discarded shirts.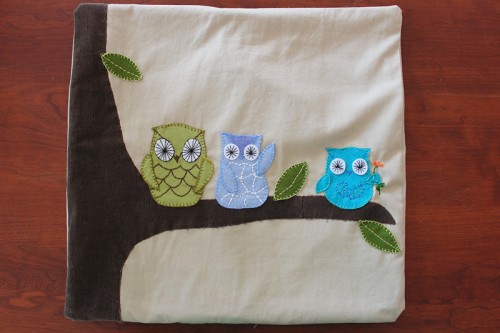 I cut my squares and used a bit of the leftover brown corduroy for the tree trunk and branch. I didn't have any fusible backing on hand, but I had hem tape and used that to fuse tree to the fabric and then used the sewing machine to run a button hole stitch around the edges. From there I cut my owls from wool blend felt and hand sewed the owls into place.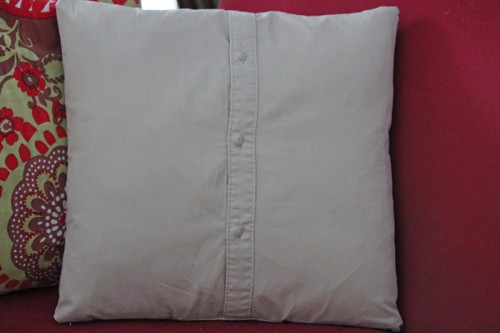 Given the size of the shirt from which I cut the squares, I had to piece together the back square. Inspiration hit again, and I used the shirt's existing button closure for the back.
I'm quite tickled with the end result. Now what next? I'm headed back to that thrift store bag!