I used to purchase chicken breasts or the occasional roaster chicken from the grocery. Now that we raise our own chickens and turkeys for meat, I find that my freezer is full of leg quarters. Not being a big fan of drumsticks or thighs, this creates a bit of a dilemma for me.
I've experimented with grilling and roasting, but I just don't care for the legs much. That is until I tried them in these individual pot pies. This has become one my family's favorite meals.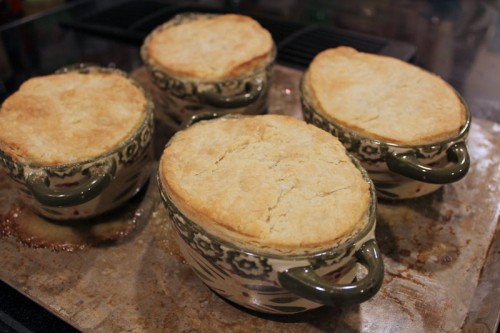 Mini Turkey or Chicken Pot Pies
Crust
1 ? cups flour
? teaspoon salt
1 stick of cold butter
? cup cold water
In a bowl, combine the flour, salt, and butter with a pastry cutter until you have the consistency of rice or small peas. Mix in the cold water until the dough loosely holds together. Gather it together into a disc, wrap in plastic and refrigerate for 30 minutes.
Filling
2 cups cooked chicken or turkey meat
(tonight I used one turkey leg cooked in the pressure cooker)
Medium size onion, chopped
3-4 large carrots, chopped (we like carrots)
1 stalk of celery, diced
1 cup frozen peas
1 medium potato, diced
? cup butter
? cup flour
1 ? cup chicken or turkey broth (tonight I used water and bouillon)
2/3 cup of half-and-half
? teaspoon salt
? teaspoon pepper
Add the vegetables in a pot and cover with water. Heat until boiling; boil for 10 minutes. Add the chicken or turkey meat and return to a boil to warm the meat. Remove from the heat and drain.
Return the vegetables and meat to the pot. Add the butter and heat on low until the butter melts. Stir in the flour until combined. Add the broth, half-and-half, salt and pepper; mix. The mixture should be a little runny; if it seems dry, add a little water or broth.
Divide the mixture into individual ramekins. Mine are 9-ounce dishes and I could fill five – if I had five dishes.
Roll out the dough. Cut out the dough tops large enough to cover the edges of the ramekins. – they shrink slightly when baking. Bake at 425? for 30-35 minutes. Simple and very tasty!
Invariably, there is dough ?left over. Some nights I roll it out and bake it so you can have extra crust with your pot pie. Tonight, I rolled the leftover dough out, topped it with a bit of butter, cinnamon, and sugar. After rolling it into a log I sliced them into ? inch rounds and baked them till golden. Topped with a drizzle of cream cheese icing, these disappeared in less than 2.5 seconds. I literally turned by back and they were gone. Next time I'll have to keep a closer eye on them so I get my fair share!