We purchased our first generator eight-and-a-half years ago when building our home. It provided necessary power to begin our building project until Bangor Hydro connected us to the grid.
I wrote about the demise of the generator in The Seven Year Slump back in January. Paul, who can fix just about any engine, finally gave it last rites. Thankfully, last winter was a mild one and as it turned out, we didn't need it.
Our house is wired with a sub-panel that can be powered by the generator. The sub-panel has circuits for:
the well pump so we continue to have water
the heating system so the circulator pump that moves the hot water from the wood boiler through our radiant floor tubing
the fridge and freezer so all of the chicken and turkey we put up will keep
and one kitchen outlet for a lamp, microwave, crockpot, etc.
Having the generator gave us some peace of mind that we could provide for our basic needs during a power outage due to a storm. Provided we have gasoline, which Paul always stocks up on before a storm. If we don't need the gasoline, it goes in the Prius or lawn tractor. Replacing the generator, while a priority, simply hasn't been in the budget.
Enter Super Storm Sandy and Granny Gadget.
Mom (a.k.a. Granny Gadget) was going into worry overdrive knowing we didn't have a generator. It doesn't matter that I'm forty-something – Mom still worries. We sailed through Sandy without a blip only to be facing a Nor'easter the next week.
Mom got a bee in her bonnet and informed me that she and dad were presenting us with a new generator for Christmas. You know you're a grown up when you get generators for Christmas and not clothes, electronics, or fun blingy things. Not that I'm into blingy things. Or leopard print; but that's another Granny Gadget post.
Mom gave Paul a budget and told him to start shopping. What we discovered is that there were no suitable generators in Maine – they'd all been diverted to the mid-Atlantic region in anticipation of the devastation Sandy would bring.
Granny gadget simply would not accept the fact that we could not just go out and pick one up. She needed us to have this generator so she could stop worrying about us. She called to check up on our progress daily, if not more often. Thankfully, the Nor'easter wasn't much more than a little wind and rain.
Then yesterday, eight days after our generator search began, we became the happy owners of a 7500 watt, electric start (Yay!), generator big enough to run all of our emergency circuits. Mom's motto is, "Prepare for the worst and hope for the best."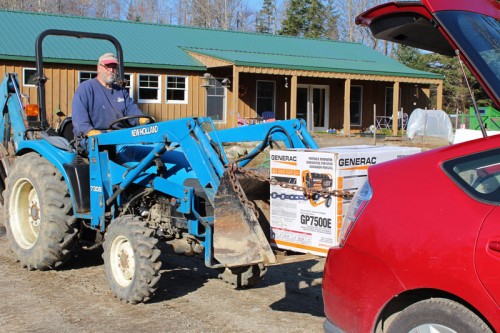 Well Mom, we are prepared! We truly appreciate your gift.
So what is peace of mind, you ask?
A generator!