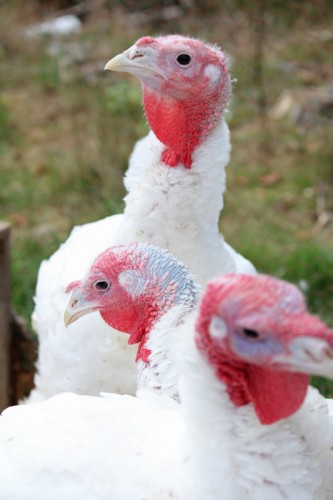 Freezer camp has commenced. The turkeys have been with us almost 17 weeks. Three of the six chicks purchased in June departed for freezer camp – an average of 15+ pounds each. There's something endearing about the turkeys that makes dispatching them harder than the meat chickens. They are so sweet and gentle, it's hard to see them go. Their gobble sound is such fun and the full-fan tail display impressive. I wouldn't mind having a couple of an appropriate breed on the farm year round.
Just yesterday morning Hannah heard a wild turkey gobble-gobble and our turkeys responded! I wonder what they were saying?
More Turkey Talk
28 July 2012: The Turkey Escape
16 June 2012: Introducing Thanksgiving Dinner
24 November 2011: The Turkey Verdict
20 November 2011: Farewell Turkey Dudes
29 August 2011: Chris and Thanks at Three Weeks
10 August 2011: Gobble! Gobble!