Snowy cold weekends are the perfect time for one of my new favorites – Split Pea Soup. I made this for the first time last year after many hints from Paul who loves Split Pea Soup. Me? I'd managed to avoid it for all of my years.
I had no idea what I was missing. This is made with fresh chicken stock, a meaty ham bone (saved from the Christmas ham for this purpose), lots of fresh veggies and fresh thyme rescued from the winter garden before the snow started on Saturday.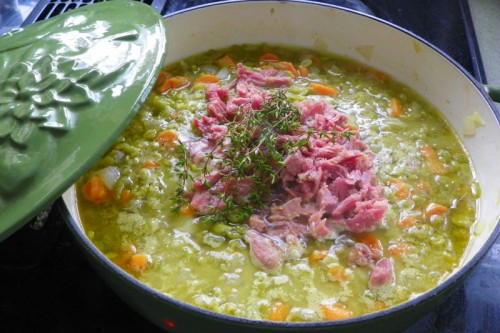 The trouble with this soup is – it's gone entirely too soon.
~Yummy Split Pea Soup~
2 cloves garlic, minced
3 large carrots, chopped
3 stalks of celery, chopped
1 large onion, chopped
2 tablespoons of olive oil
2 cups of chicken stock
1 bag of split peas
4 cups water
1 meaty ham bone
large bunch of fresh thyme
1 teaspoon pepper
Saute the garlic and veggies in the olive oil until they've softened a bit. Add the remaining ingredients (Note – I toss in the entire thyme branch – stem and leaves). Bring to a boil and then reduce the heat to a simmer. Cook for 45 minutes or so until the peas become tender. Remove the ham bone. Remove any ham from the bone and add the ham to the soup (or add in diced ham if your ham bone is wimpy). Give the soup a stir and extract the thyme branches. With an immersion blender give the soup a little blend. Just a little – give the soup a creamy texture, but still have identifiable veggies and peas. If you don't have an immersion blender, you can put a couple cups of the soup into a blender and then return to the pot and mix for the same effect.