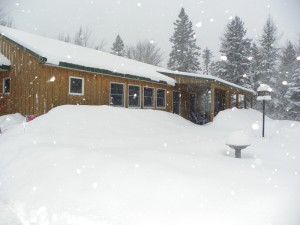 We've been living in this house we built ourselves for seven years now. Suddenly it seems that we are having a rash of appliance failures.
First, there was Hannah's television, just a couple of months out of warranty (of course). She does not have a television hook-up in her room, but having a television there allows mom and dad to enjoy her Wii in relative peace. I was thrilled and amazed when Paul did an internet search, ordered a new capacitor (whatever that is), opened up the television and welded it into place. The television is good as new and probably better.
Next was my desktop computer that was one month out of warranty. The computer where I do my web design work. It was acting a little funny one day. The next day it would not turn on – no fatal blue screen, just nothing. An internet search and $45 later and Paul replaced some power control thingy and the computer is good as new.
Just last week an alarm was sounding on the outdoor wood boiler that we use to heat the house (in use for three winters now). The boiler shut itself down. Thankfully, I was at work and did not have to suffer through the agony of dealing with it. When I finally learned about the problem, Paul had already solved it. With a call to Central Boiler and a little electrical workaround a bad sensor, he had it back on line and we had heat.
Then there is our trusty generator. Well, not so trusty now. For eight years it always started without a complaint. Living in Maine where memories of ice storms resulting in weeks of power outages are still fresh, the generator is crucial for my winter piece of mind. It now lies in parts in the garage as Paul trouble shoots why there is no spark. He's a mechanic and engineer. He knows engines, but this one is giving him fits. He told me not to worry, he would figure it out.
My kitchen faucet now falls off and when the faucet is on, water leaks out of places it shouldn't. A new faucet is on my wish list, soon to be on the "honey do" list.
Suddenly, my treadmill will not turn on. It's not like I've been taxing it too much lately. Just nothing. It lies dismantled in front of the French doors. An internet search and a little surgery by Paul determined that the motor controller is bad. Add $145 plus shipping to the wish list and honey do list.
Last, but not least, there is my Jenn-Air downdraft?cook-top?range. This was my one splurge when we built the house. Yesterday, the front left burner went kaput. Sigh. An internet search and Paul has whittled the problem down to one of two issues?- a bad switch or a bad element. Replacement parts for each run about $50.
I shudder to think what appliance failure could be next. These failures make me feel helpless, and that I'm entirely too dependent on technology.
Lucky for me that I fell in love with and married an engineer!