The last day of 2011 found my family gathered around the table playing Harry Potter Monopoly. New Year's Eve afternoon is typically game day served up with popcorn and appetizers.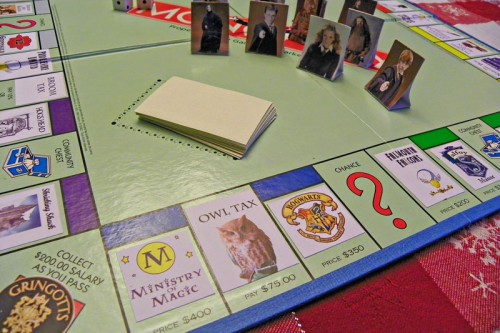 We are clearly fans of the Harry Potter book series. Hannah and I had great fun creating this one-of-a-kind monopoly game. We laboriously outlined the properties for our Harry Potter Monopoly version. We took a spare Monopoly game and modified the board. Pass Gringotts and collect 200 galleons. You don't want to land in Azkaban and Free Parking is The Burrow. Quiddich teams replace the railroads. The Hogwarts Express and the Knight Bus replace the utilities. The high rent district includes Malfoy Manor, The Ministry of Magic, and Hogwarts. Our version boasts the Owl Tax and the Broom tax.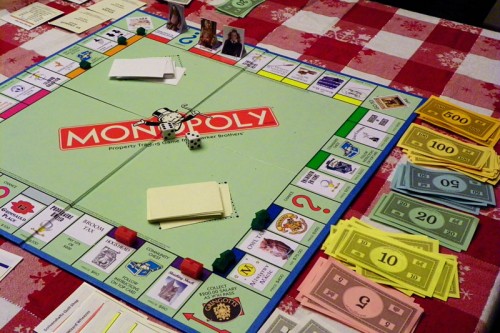 Hannah always plays as Hermione and Paul invariably chooses Hagrid. Today I played as Luna. Harry Potter, Severus Snape, Professor Dumbledore, Ron and Ginny Weasley are ready and waiting in the wings.
There is a certain rhythm to our annual monopoly game. Paul is ruthless in his play. Hannah is the first to start negotiations for properties – no surprise there. I just try to stay in the game.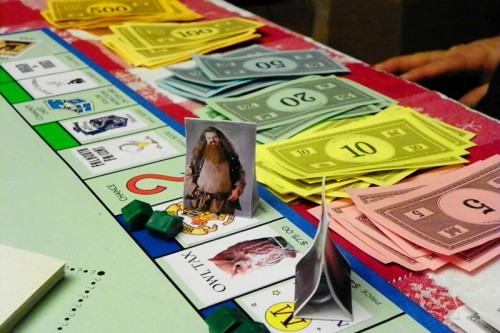 I'm not a great fan of board games. Truth be told I'd rather play cards – Rummy or Uno is more my thing. Still, I enjoy this holiday tradition of family togetherness.