Since Maine Apple Sunday, I've tried three different apple crisp recipes and finally have one that I think is good enough to share. This is crispy and just a little tart – not too sweet.
Our apples are from old, wild, overgrown trees. My guess is that they're something akin to a Gala.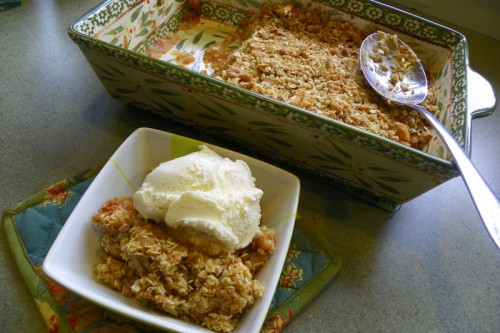 The Apple Filling
Toss the following together in a bowl and then pour into an 11" x 7" baking dish.
8 cups of apples chopped into bit size pieces (maybe 8 large or a bunch of little ones like I used)
1-tablespoon lemon juice
¼-cup brown sugar
¼-cup whole-wheat flour
½-teaspoon cinnamon
The Crisp Topping
Mix the following together with a pastry cutter until you have a pea size or smaller consistency.
½-cup whole-wheat flour
½-cup brown sugar
½-cup butter, cold
Then, stir in the following.
1-cup old-fashioned oats (works fine with quick cook oats as well)
2 tablespoons oat bran
Spread the crisp topping over the apples. Bake for 45 minutes at 375 degrees. Cool slightly and serve with vanilla ice cream. Yum!
Now that I've got the crisp recipe down I'll have to fixate on another apple recipe to perfect to use up the rest of my apples!