I didn't set out to be a chicken farmer. My husband sneakily lured me into the world of chickens with visions of farm fresh eggs and happy hens clucking about in the yard.
When he attended the Chicken 101 class at Darthia Farm and learned how to harvest a meat chicken, he brought that chicken home in a heavy-duty plastic bag. He was excited about the proposition of raising his own meat chickens. I was leery. Then last autumn I read The Omnivore's Dilemma by Michael Pollan. This book tells the story of one man's journey in an investigation about where our food comes from. It was enough to turn me into a vegetarian. With this new insight into the modern food chain, I gave in. I told Paul that he could raise his meat chickens if the chicken arrived in my kitchen looking like it came from the grocery. I would have nothing to do with the butchering.
You already know where this tale is going, don't you?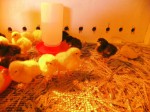 So I oohed and ahhed over the cute Cornish Rock chicks when they arrived in the mail – 10 live chicks in the first order and 23 in the second order. When they started looking prehistoric rather than cute, I latched on to their "ugliness" and let Paul handle most of their care while I played with the egg laying hens. This was my method of self-preservation knowing they would one day grace my dinner table.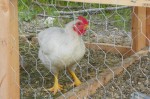 At eight weeks old, Paul harvested four of the ten chickens from the first order and then stopped because he was disappointed in the dressed weight of the chickens – barely three pounds. We did a bit of research and made some changes in feed and management of the flock. A couple of weeks later he harvested the other six chickens with much better results.
Last weekend arrived with the threat of Hurricane Irene storming up the coast. Our remaining meat chickens had just survived a doozy of a storm the weekend before. In just a couple of days they would be eight weeks-old and we would be harvesting. Given the impending storm, we decided to hedge our bets and harvest on Saturday in advance of the storm. Paul didn't say so, but I could tell he was overwhelmed with the prospect harvesting 21 chickens by himself in one day (two of the original chickens didn't make it through).
Feeling the pressure of the hurricane clock, I told Paul that I would help. I would be willing to pluck. How bad could it be? Really? (Remember the Meatloaf song "I would do anything for love, but I won't do that?" Good advice.)
Hannah helped Paul to catch two chickens at a time for processing. She carried them calmly and lovingly passed the hen house (wearing rubber gloves) so she wouldn't traumatize The Girls. She walked the last few steps to the back yard with her eyes closed so she couldn't see anything "yucky" all the while calling the chicken by name: tender, roast, nugget, the stew who flew (my personal favorite), etc.
I positioned my workstation facing away from Paul's table. I made myself scarce when Paul "dispatched" the chickens. After they bled out, he dunked one in hot water for a few seconds and then plunked it down on the table in front of me. We each plucked a chicken to start – Paul showing me the process as we went. I took over the plucking from there while Paul processed the chickens. We harvested 12 chickens on Saturday and the nine remaining on Monday afternoon.
After all this work on Saturday, I put the chicken I had taken out of the freezer that morning in the fridge and ordered a pizza for dinner.
It took us ? hour to pluck and process one bird. It's a good thing I have a day job.
The first look at the dead chicken's head had my stomach doing an unpleasant dance. A few deep breaths and I draped a rag over the head and neck of the chicken so I couldn't see the blood. After the first half dozen, I was able to train my eyes not to look above the neck at all and dispensed with the rag. By chicken number 18, I was dunking them into the hot water myself.
I was plucking chicken in my sleep last night. So much for the chickens arriving in my kitchen as if they were purchased at the Shop 'n Save.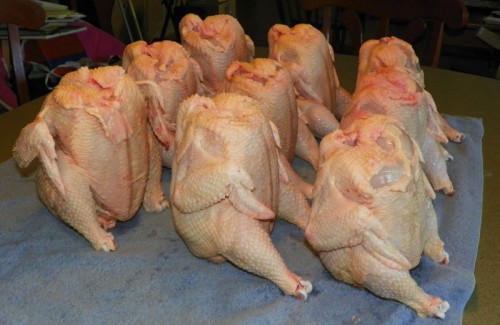 We now have 21 chickens ready for the freezer (and the eight remaining chickens from the first harvest). They average 4.5 lbs. dressed?- with none of the extra surprises that come in grocery chickens (necks, gizzards, etc.) I never knew what a gizzard was until now.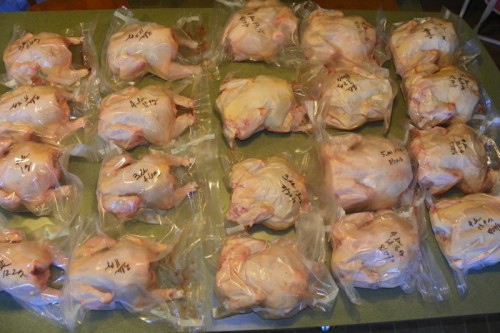 I can't say that I'm excited about raising meat chickens and I'm definitely in no hurry to pluck chickens again anytime soon. Still, I am proud of what we've done. I know the chickens Hannah will dine on were raised responsibly. I know what they were fed. I know what they weren't fed – steroids to fatten them and antibiotics to keep them alive.
Will I buy another grocery chicken? Probably. Although it will be six months or so before my freezer is empty. By that time I could probably live off eggs.
What's next on Paul's journey down the hobby farm lane you ask?
Pigs.
Help me.