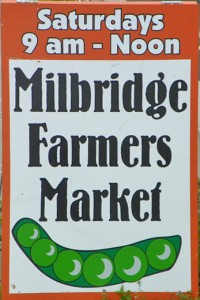 Saturdays in the the summer we make a habit of visiting the Milbridge Farmers Market. There are so many things we enjoy purchasing at the market that we've set a $20 limit for our outings.
Each week there is a drawing for a market basket – goodies from some of the farmers. Last week Hannah's name was drawn, so this Saturday she picked up her basket that included a bouquet, fresh greens, tea, and cranberry french vanilla soap.
Here are some of our favorite market stops.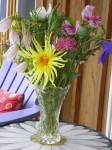 A nice way to spend a Saturday morning!