I've tried a variety of ways of making bread at home, but I really don't get into the whole kneading thing. So I really do enjoy the bread machine my mother gave me for Christmas last year. I've made countless loaves of oatmeal bread with this. We eat more homemade bread these days than we do store bought. I've perfected an oatmeal recipe that serves us well for sandwich bread and toast.
I love the artisan breads and Boule that you find in the markets today; beautiful crusty shapes with great texture when sliced. Some time ago I stumbled across a a recipe from the New York Times for no need bread. It's been quite a while since I tried this. Last weekend I visited the farmer's market with hopes of purchasing a loaf of artisan bread only to discover that the bread lady wasn't there. So I came home and dug out this recipe and Hannah and I made our own artisan loaf.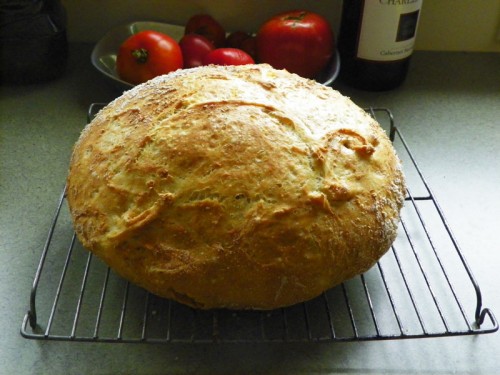 Isn't it beautiful? Definitely picture worthy. Everyone was eager to taste test this creation.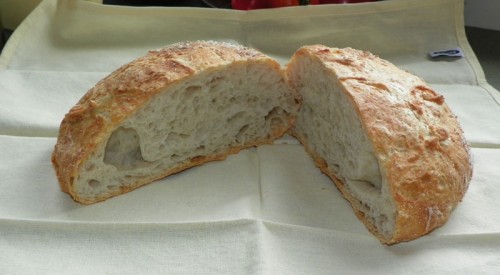 The thing about this bread recipe is that it takes time so you have to plan ahead. Once the dough is mixed, it sits for 12 – 18 hours before it's baked in a cast iron dutch oven. The problem is, I don't often anticipate when I'm going to want freshly baked bread. Therefore I don't see giving up my bread machine any time soon!