I am very lucky to have a super mom. In all my adult years, we've only spent a few of those within easy travel distance of each other. Whether I lived near or far, she is always thinking of me – and the rest of her family.
When she is out and about, it's always with an eye for what might appeal to her loved ones. Although I've been on my own for a lot of years, care packages from mom are still a regular occurrence. It might be a shirt she saw at Costco that she'd know I'd like. Or a package of fried jalapenos that she knows Paul would get a kick out of. It might be some as seen on TV gadget that she thinks will make my life easier. QVC delivers unexpected packages to our house and we know it's from mom (aka Granny Gadget as Paul has nicknamed her).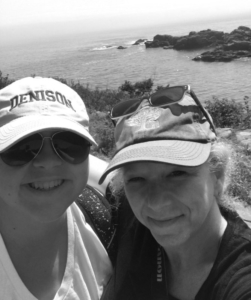 With Hannah just a week into her college experience, I've sent out my second care package. Box #1 contained Dory duct tape (of the Just Keep Swimming fame), pistachios, a box of Junior Mints, some cute sticky notes, and a Kohl's clearance rack purchase I knew she'd appreciate. I find myself looking for things she will enjoy that won't take up much space in her tiny room.
So I get it – the whole care package thing. It's not just about the smile it will bring to Hannah's face when she receives the box. It's that care packages are one way (other than paying the tuition bill) that I can keep taking care of her from afar.
Thanks for all those care packages, Mom!
Save
Save
Save
Save