I'm not a foodie and you'll find more "oops" stories here at Downeast Thunder Farm than you will recipes. In planning for Hannah's graduation celebration, I found these little graduation cap cupcakes on Pinterest. They looked pretty simple and I figured I could pull it off.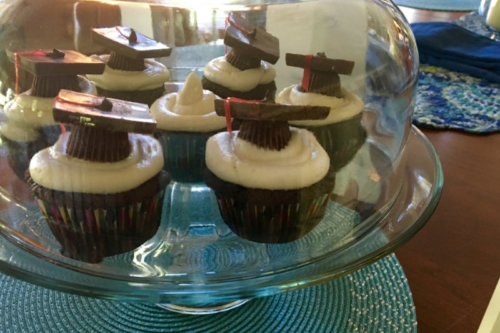 I decided to go with Swiss meringue buttercream frosting. I'd never made it before, but heating the 4 egg whites with sugar and then whipping in the butter seemed to go beautifully – until I tasted it. The frosting was beautiful, but gritty on my teeth.
I threw that batch out and started again. Only this time, when I separated my eggs, I broke a yolk on the fourth egg and ruined all four egg whites. So I headed out to the chicken coop, scooped up four more "room temperature" eggs and played it smart this time. I separated one egg at a time in a bowl and then into the double boiler. Well, I must be doing something wrong because those eggs and sugar never did lose their grittiness. After a good 20 minutes of stirring it on the double boiler, I tossed out that batch. Twelve eggs later I texted Hannah who was at her softball game, "Swiss meringue buttercream is not going well." I abandoned the frosting and took mom shopping. Once we returned home, I effortlessly whipped up a batch of standard buttercream frosting.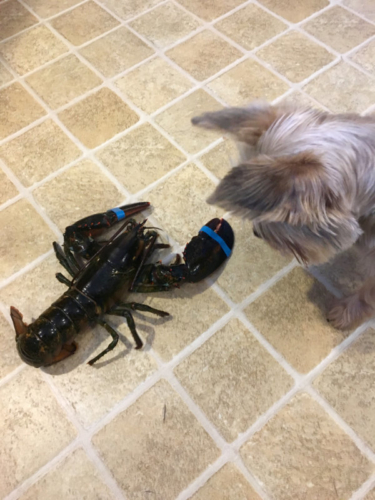 Gidget was unimpressed with the lobsters – the centerpiece of Hannah's celebration dinner.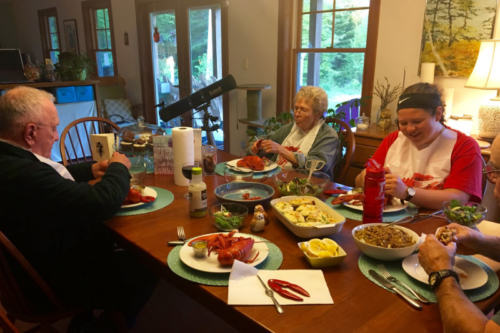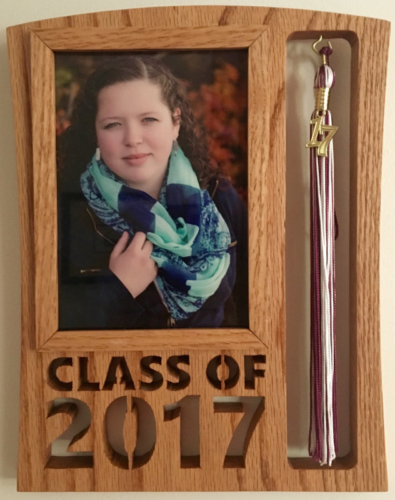 For a graduation gift, Paul created this frame to hold Hannah's senior photo and tassle. The fact that it was made of reclaimed oak from the old Milbridge Theatre made it that much more special for our movie nerd.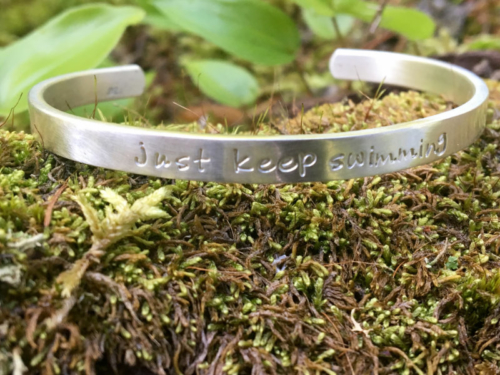 It took me a while to come up with a graduation gift for Hannah. I wanted something that she could keep to remind her of this day (and of me). I finally settled on a silver cuff bracelet that I had stamped with her mantra for tough times (from the movie Finding Dory) "just keep swimming."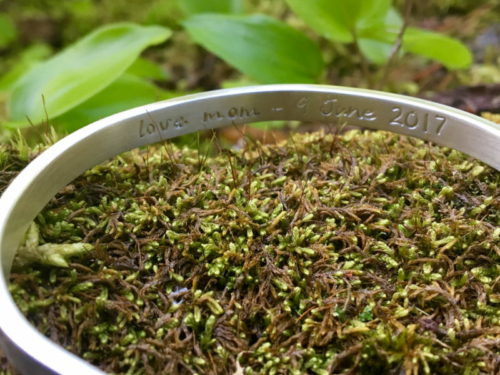 The inside reads "love mom – 9 June 2017."
I hope we've succeeded in making some good memories for her. As Ellie says in the movie Up, "Thanks for the adventure, now go have a new one." I'm going to try to make the most of these two months and create some more memories before she takes off on that new adventure!
Save
Save
Save