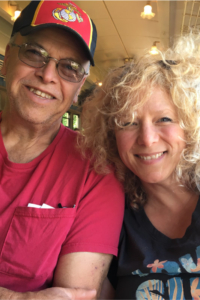 I know I've mentioned before how fortunate I am to have such a handy husband. Paul, a marine engineer by training, describes himself as an engineer, designer, fabricator, and maker. We joke that he's the idea guy. I, however, have veto power.
I always seem to be the one with the camera around the house, but lately, he's begun to document his projects over at his site Downeast Thunder Creations. Here are a few of the videos he's created from photos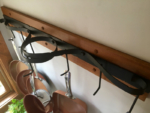 Recently, I shared the pot rack he fabricated for me. Here's a quick video he put together showing the basics of how he created it.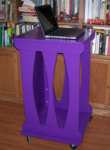 This fall, Paul designed and built a standing, mobile computer desk for his laptop. It's built for his height and comfort and he can easily move it to where he's working.  You can see his images of building this here.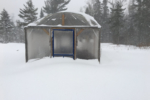 Paul designed my greenhouse a couple of years ago – which still stands strong even with the crazy 40 inches of snow we got this last week. He's put together a quick look at the building process here.
These are just a few of the pictorials/videos he's put together on his projects and he's got many other plans on the drawing board.
My concern is where my projects fall on the "Honey Do" list. So, let me take this moment to record my list for posterity.
Turn my 6″ baking sheet cabinet into a pullout spice shelf.
Build a new duck coop with a concrete floor.
Finish the windows in the revamped hen house.
Dig a new garden bed just for garlic.
Put the door casing and trim on our office door.
Install the screen doors on the French doors leading to the porch.
Finish the trim in our bedroom.
Help me put new kitchen tile in – once I finally figure out what I want!
Not to worry, honey. You'll note that this list is taped to the fridge, too!
Stop on over to Downeast Thunder Creations and see what Paul's been up to!
Save
Save
Save