I have this leather-topped writing desk built by the Maddox Table Co. of Jamestown, NY. It was my grandmother's desk, a piece that came from the furniture store my grandparents owned when I was a child – The Jordan Store. In my mind, I can still see this tucked in the edge of Grandma's living room with a wood chair and a pretty painted metal container that served as a letter and pen holder.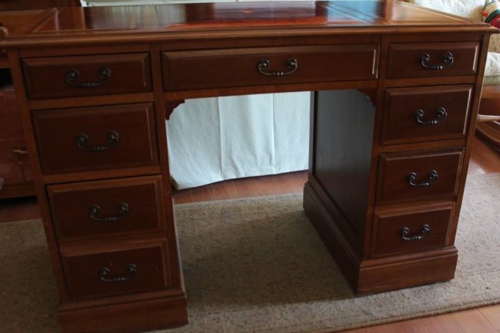 I used the desk for years, but passed it on to Hannah. It's not very big and isn't well suited for a desktop computer. Last summer, Hannah picked out her own desk, something that better suited her developing style.
So what to do with this desk? I don't have extra space for unused furniture, so it sat in the dining area for months before I relented and posed it for sale. I didn't have any takers – probably because I set my price too high given the sentimental value. So the desk sat for a few more months and became a perch for the kitties and a place to dump stuff in passing.
Then inspiration hit. I had Paul remove the desk top and I was left with two solid wood towers of drawers. Where there had been a center drawer, the inside wall of the tower was open. Paul milled some new wood to fit it in those "holes" and finish the sides.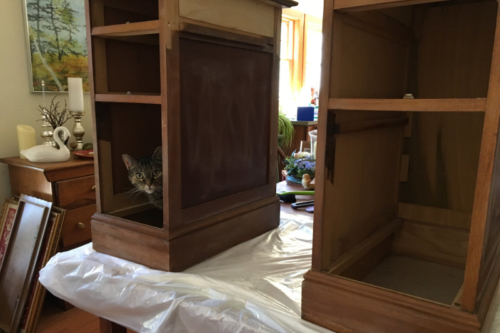 From the desk top, I peeled off the leather. Paul chiseled and sanded the top smooth. From that large desk top piece of wood, Paul cut two matching pieces for the drawer towers, routing the cut edge so the profile matched.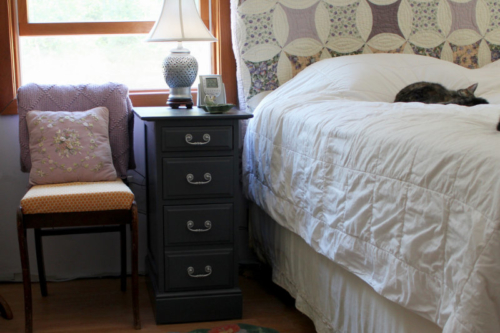 I filled holes and dings and then sanded and primed the pieces. I chose a gray paint and painted the tables with three coats.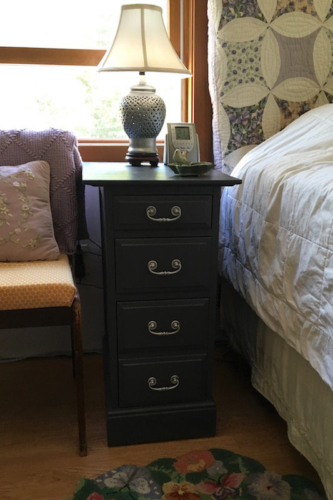 Although I wanted more modern drawer pulls, I finally came to the conclusion that I didn't want to pay the prices for what I liked. In the end, I painted the existing pulls with a nickle color spray paint for an updated look. They're not perfect, but I'm happy with how they turned out and they make sharp bedside tables – with storage!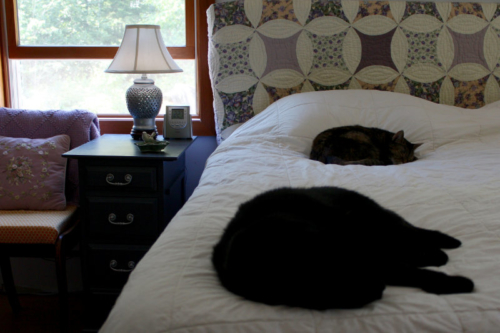 The kitties seem entirely unimpressed that an unnecessary heirloom finds new purpose.
Save
Save
Save
Save
Save