I love hearing from readers. Learning about what you create with my patterns and the wonderful ways in which you share them bring me joy. The questions asked of me often follow a number of common themes, so I thought I'd share the answers to these frequently asked questions.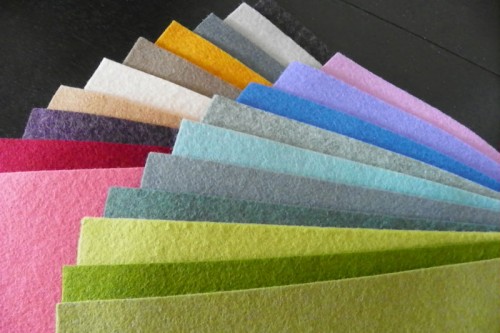 What kind of felt do you use?
Any type that I can get my hands on! The biggest challenge is finding the right color for what I want to accomplish. That said, I prefer a wool-blend felt. I find that the better quality of the felt, the better the finished product. A wool blend doesn't fray as much as the acrylic/polyester varieties found in most big box stores. And, it's a more natural look without the sheen that often accompanies the acrylic/polyester varieties.
Where do you get your felt?
I will purchase felt at craft stores, but my favorite place to purchase felt is on Etsy where I can find some nice wool blends in lots of colors. These are two shops that I have purchased from: Shoppe 3130 or Sweet Emma Jean. I find that some smaller sewing and needle work shops will have some nice quality felt – if not in the variety of color you can find online. You can use other types of fabric as well. I've seen readers use wool, corduroy, and paper. I've actually used window chamois cloths and flannel from old shirts.
How do you get your felt pieces cut out so neatly?
A few things. 1) The better the quality of the felt, the nicer the felt pieces cut. 2) Keep two pairs of scissors – one nice sharp pair for felt and a second pair for cutting out the paper patterns. Don't use your fabric scissors to cut paper and they'll stay sharp longer. 3) When the instructions call for you to cut two of one pattern piece – cut them one at a time rather than doubling up the felt and try to cut them both at once. The end results are more true to the pattern shape and have a cleaner edge.
What 12 colors of felt should I start with?
It really depends on the birds or critters you are interested in making. I go through a lot of browns and grays and I'm always looking for new shades to work with. To that add white, cream, black, yellow and red and you've got a good start.
Why are some of your patterns single-sided and some double-sided?
When I started playing with these designs, I made them only one sided because I wasn't really thinking beyond making them for myself. When readers began asking for double-sided birds I began adding instructions for the flip side. In most cases, that's simply a mirror image. In other cases, like for the owls and critters, the back side is treated differently.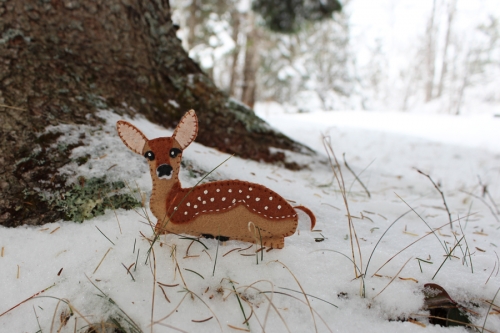 Why do some patterns not have colors noted on them?
When I started drawing the patterns, I thought it was obvious what color to use based on the bird and the picture of the finished bird I provide on the pattern. As some of the design became more complex, it made sense to add the color names to the patterns. Since then I've just stuck with it.
Do you hand sew the ornaments, or use a sewing machine?
I usually work on the designs while parked on the sofa when the rest of my family is watching television, so I doing this work by hand. However, there's no reason why you can't use a sewing machine if that's what you prefer!
What kind of stuffing do you use for the birds? How much do you use?
I use a generic loose fiberfill for stuffing the ornaments. I use only enough to give the birds a little definition – not enough to make them pillow-like.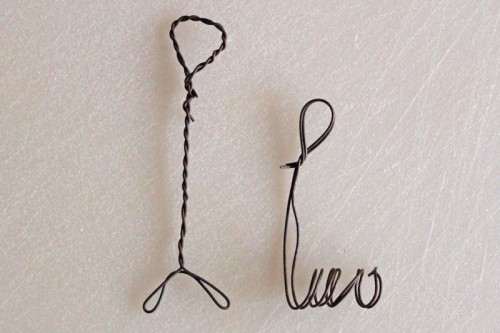 What type of wire do you use for your bird legs?
All different kinds. I've started to horde bits and pieces – the kitchen junk drawer is a mess! The wire I use most often is brown because it's from a rusty old paddle of wreath wire. It's probably 18 or 20 gauge – similar to floral wire. To make it look thicker, I often twist two pieces together. I've also stripped the insulation off bits of leftover electrical wire that Paul tosses in the garbage. Here's a look at how I handle wire legs.
Why don't you make felt feet for the birds?
I enjoy creating realistic looking birds. When you consider the real deal, most birds have delicate little legs that would be challenging to make out of felt.
What's up with the critters? You haven't finished all of the birds yet!
Yikes! That's a big expectation! I make whatever catches my fancy as I have time. So I imagine that I'll bounce around a bit when it comes to the subject.
When will you make the female counterparts of the birds you've already made?
Male birds typically have bold colors or marking that lend themselves nicely to easy to make patterns. The females tend to be more subtle with soft color variations and I find them their patterns more challenging to recreate. That's not to say I won't…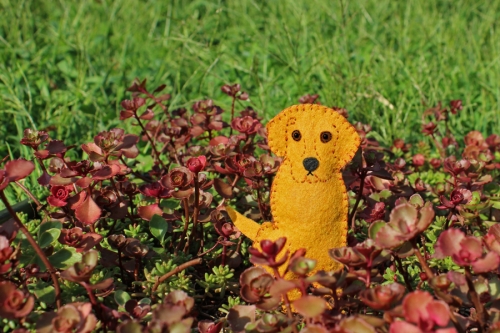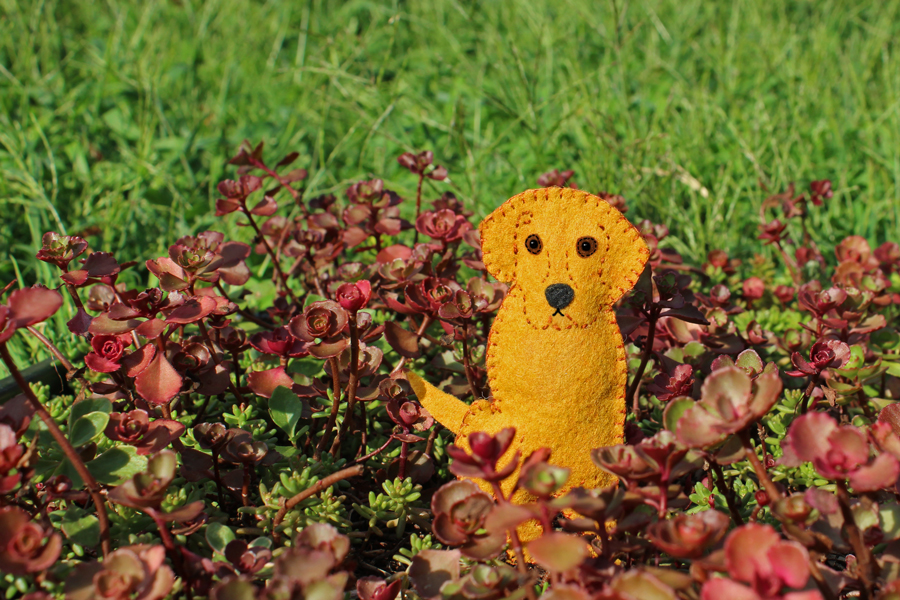 Will you design more dogs?
Designing dogs doesn't excite me – I much prefer drawing wild animals and birds. The motivation for the dogs I've made so far was to honor specific pets in my world. So, I'm not sure how many dogs I'll create in the future.
Do you have printed copies of the plans to sell?
I do not have plans available for sale. If you do not have access to a printer, I suggest that you visit your local public library where you can print out a copy for pocket change.
Will you create a book of your plans?
I've contemplated putting together a book, but I am time poor. Between three jobs, our little farm, and a teenage daughter in year-round sports, life is a little crazy.
Why do you object to commercial use for your patterns?
I have fun creating these patterns, and like the fact that they bring joy to others. That's why I share them for free. Making money from the patterns is not important to me so I'm willing to share them at no cost for your personal use. I hope that you'll pay it forward and make these birds and critters to share with family and friends – and to use for fundraising for nonprofit organizations that are close to your heart.
Yes, you may use them with children or senior groups, in schools or libraries. The more the merrier! And I always love to see pictures!
Do you sell the felt ornaments you make? Can I place an order?
Nope. Sorry! For most of these patterns, I've made only one ornament to photograph and then gift them when I find the right home. My life is a little too full and crazy to take on a cottage industry, and to be honest, the fun for me is in developing the pattern and creating that first prototype.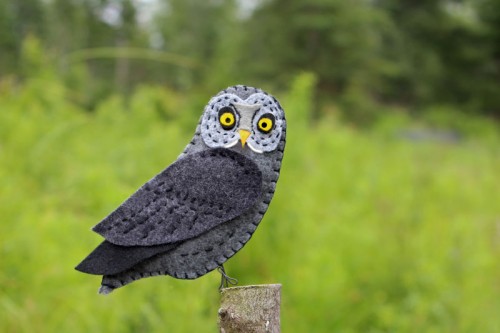 What is your favorite pattern?
That's a tough one. My fascination with owls launched this hobby. The Grand Great Gray Owl is probably my favorite bird pattern and the Much Loved Ginger Beast my favorite critter pattern. Or maybe it's the Captivating Calliope Hummingbird and the Winter's White Tail Fawn?
Why birds?
Probably because they are the type of wildlife I see every day (although I've obviously expanded into mammals!). I can't drive or walk down the road without scanning the skies, trees, and fields looking for a subject. I can't tell you how often my family waits patiently in the car when I pull to the side of the road to snap pictures of something that's caught my eye.
When will your next pattern be out?
You never know! I tend to produce more patterns during the winter when I'm stuck indoors. Once good weather hits, I rarely sit inside for very long!
If you're curious about other things, let me know and I'll add them to the list!