In our house, it seems that it's only a matter of time before our loved ones are labeled with nicknames.
Hannah was just a wee one when she became Roo or Hannah-Roo (much to her dismay today).
Purfessor Snape, our black kitty is most often called Boo. Yet, he's also known by Boo  Bear, Itty Bitty Boo (which he's not – he's a BIG kitty now), and Cuddly Wuddly Woo Boo (although Hannah's let that one slide as she's aged).
Cinder is so prim and proper that it was a while before we came up with her nicknames of Miss Kitty and Cinder Kitty.
Ginger (oh, I miss her!) was Gingy, Ginger Baby, Ginger Beast and sometimes Psyco Beast (that last one was all Paul).
And then there's Gidget. Although she's been with us for only four months she's already racking up the monikers – Gidgee, Midget, Gidgee Midgee, and Squirt.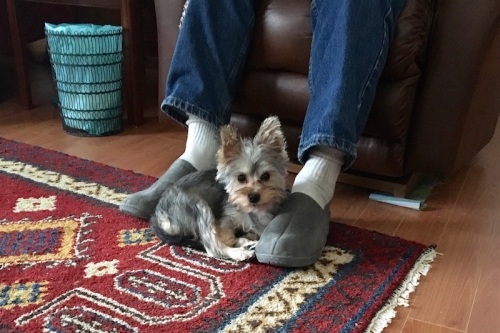 It's a wonder she she has a clue we're speaking to her and not the cats.
What's in a name? Lots of love and affection!