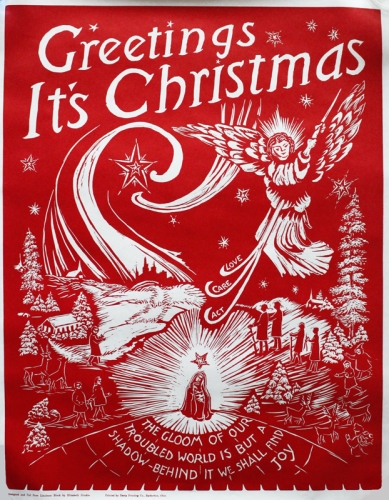 The wrapping is finished. I've got a good start on Christmas breakfast and dinner. The house looks somewhat presentable. I'm feeling conflicted – grateful Christmas is a once a year event – and sad that I've not had more time to enjoy the season. There's so much more I wanted to do, but have just run out of time – and energy!
My grandmother's aunt, Elizabeth Stroble, created this linoleum block print when she lived in St.Paul, Minnesota (1940s-1950s). This is one of a dozen or so poster "cards" I have and cherish. She sent these posters each year as her Christmas card. The sentiment of this particular poster makes me wonder if it was created during war time. It reads:
The gloom of our troubled world is but a shadow.
Behind it we shall find Joy.
Here's hoping you are safe and happy this Christmas eve. Wishing you and your loved ones a Christmas filled with Peace and Joy.
Susan
Past Christmas linoleum block print posts:
24 Dec 2014
24 Dec 2013
24 Dec 2012
24 Dec 2011
24 Dec 2010
Save