I was feeling a little down when my Christmas gifts to my folks weren't delivered in Pennsylvania when they were supposed to. And of course, I couldn't find my receipt with the tracking number. Finally, on Christmas Eve, Mom called to report that my box had arrived, and I breathed a sigh of relief.
Last year, Mom shared with me a picture of a wall hanging made from branches from which woodland creature were displayed. I attempted to recreate this for her to display the felt ornaments I send now and again.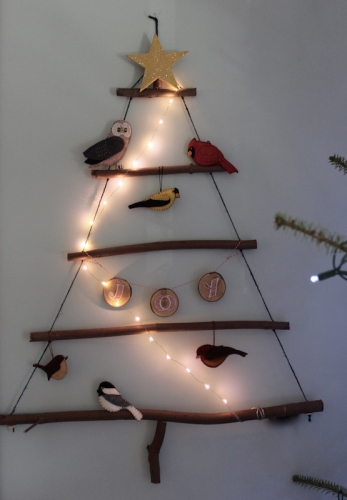 I'd envisioned birch branches for this tree. However, when I went scouring the woods, I couldn't find any birch saplings that would work and used maple saplings instead. I cut them to length and dried them in the oven before drilling holes in the ends and stringing them together with garden twine.
My tree shipped with only one short string of battery operated LED lights, but it should have had more lights cris-crossing back and forth. Being somewhat geometrically challenged, I didn't appreciate that the string of lights I'd purchased for the tree wouldn't do the job as I'd hoped. I couldn't find any more of these lights locally, and being short on time another trip to the "big city" wasn't in the cards, so I mailed my gift as is.
I cut a star from plywood, painted it yellow and covered it with glitter for the tree top. This was my third star – each one progressively bigger until I was happy with the look (again with the geometrically challenged thing).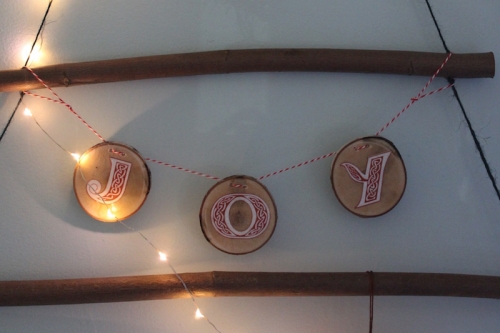 With slices cut from a small maple tree, I decoupaged the letters J-O-Y onto the slices and tied them to one of the branches.
While the end result is not quite the look I had anticipated, Mom now has a place to hang the felt critters I send.