Paul spent the better part of August building this veggie-mobile for Incredible Edible Milbridge (IEM), a project of the Women's Health Resource Library where I work part-time.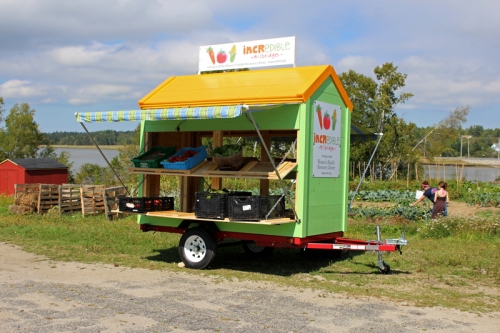 Incredible Edible Milbridge is a series of 25 gardens throughout our town where the veggies are free for anyone to pick and enjoy. The IEM project is about creating a healthier community, changing the way we think about food and what we do with our outdoor space.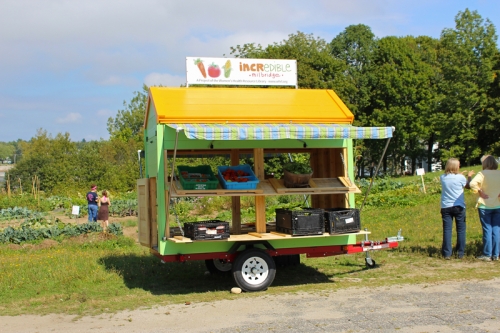 We will showcase this IEM Mobile Veggie Cart at special events like this harvest gathering, but we'll also use it to transport fresh produce to folks who cannot make it out to visit the gardens and enjoy harvesting for themselves.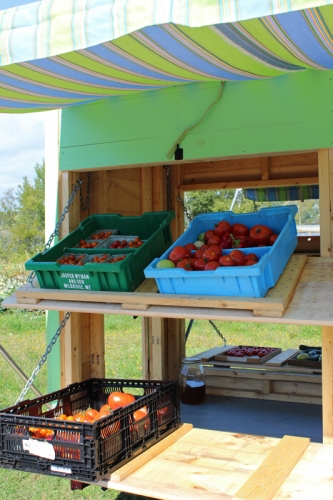 The inspiration for the cart was this one from Eliot Coleman's Four Season Farm in Harborside, Maine. Mr. Coleman was kind enough to share some of the basics about the construction of his cart. Paul took those ideas and engineered his own vision for this fun, colorful, cart that should withstand years of use.
It's crafted on a 4×8′ trailer kit with doors that fold down to display produce, recipes for vegetable dishes, and brochures. I sewed the awnings using a cheery Sunbrella fabric. A seamstress I am not, but I think they turned out okay. The logo signs are printed on aluminum – the top one held in place with custom brackets that Paul cut from steel and welded together.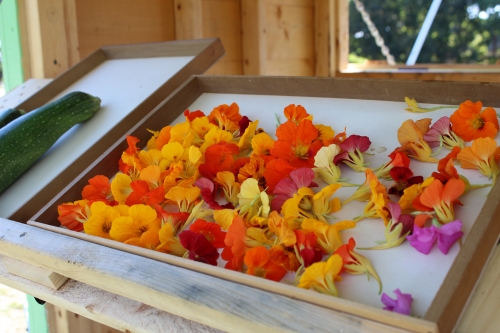 Now we're on to all the projects we ignored this summer while working on this fun little cart!
#incredibleediblemilbridge
#whrl