Do you ever have those moments when things are not going right, and the answer is likely simple, and probably staring you in the face, but you cannot see it? That was me this morning. Rather than chasing my tail and wasting an entire day on a 30-minute task, I did something very unusual – I walked away from work.
But what to do? Although the snow banks are slowly receding, cabin fever is running rampant at my house. I wanted outdoors.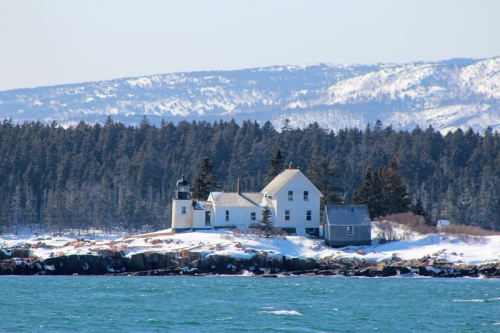 So we loaded into the car and headed out. When Paul, the last to make it to the car, found me in the passenger seat with two cameras around my neck, he understood that he was playing chauffeur. We headed over to Schoodic Point where I snapped pictures of things I'd taken pictures of dozens of times before.

Yet, I enjoyed the crisp air and the quality of the light – rich spring light – and the views of Cadillac Mountain watching over Winter Harbor Lighthouse.
We cruised along the Loop Road at 25 miles/hour, Paul waiting for me to signal him to stop so I could snap pictures from the comfort of the car, Hannah plugged into her iPod in the back seat.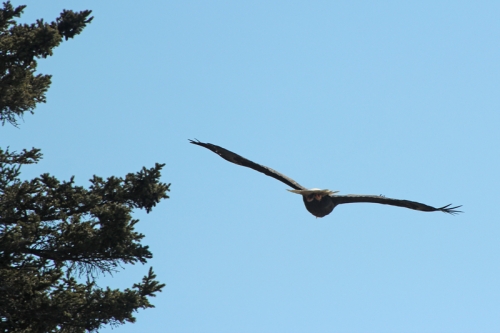 As we cruised slowly, I spied a majestic bald eagle soaring through the air, flying even with my window. For a moment, we glided along together, and I felt as if I could reach out and touch him. I was so amazed by the sight that I forgot about the two cameras in my lap until he pulled ahead of the car. Moments after I snapped this picture he was joined by another eagle. Paul stepped on the gas as we tried to keep the Eagles in sight, but the road led us a different way. The moment, brief as it may have been, was awesome.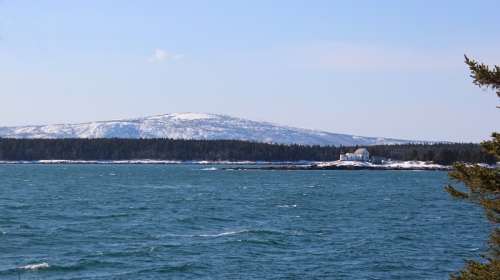 A snow capped Cadillac Mountain was the focus of the remainder of our outing.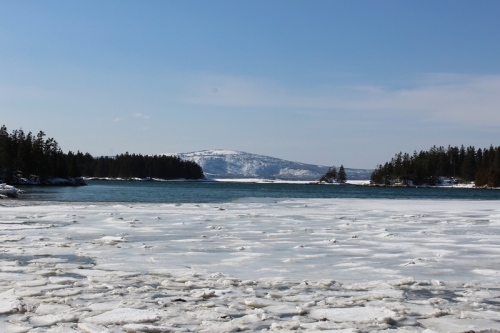 Ice filled the bays and inlets with buffleheads and loons bobbing about in the protected open waters.
At the point, we ventured out of the car to explore, only to find that deep snow kept us off the rocky shore. Out in the open, the biting wind drove us quickly back to the car.
Back home, I dared to sit down at my desk and check messages. While there, I took a look at the problem that had plagued me all morning. This time around, it took just a few minutes for me to sort out the errant dot that kept my code from working earlier in the day.
Seems to me there's a lesson to be learned here.
Past Schoodic Outings:
6 July 2014: Schoodic Point After Tropical Store Arthur
31 August 2014: Hike to Hike to Schoodic Head
3 March 2013: Late Winter Drive Around Schoodic Point
1 September 2012: Schoodic Point Picnic