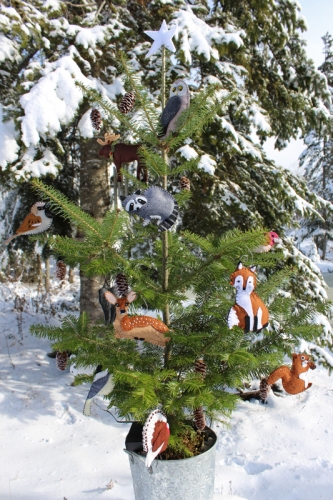 The theme of my tree for this year's WHRL Christmas Tree Auction is the Maine Woods Christmas Tree. This tree will be featured at the Women's Health Resource Library's silent auction along with 24 other trees.
Here's the run down on my 3 1/2 foot Maine Woods Christmas Tree. There are 12 of my ornament designs:
white-tail fawn (New! Check back on Friday for the pattern.)
snowshoe hare
wild turkey
black bear
red squirrel
raccoon
red fox
moose
chickadee
house sparrow
purple finch
owl
There are also 12 "snow capped" pinecones and a string of battery operated LED lights with timer. The tree is tucked into a pressed flower galvanized steel pail. A double-sided felt star tops off the tree.
I thought it might be fun to allow readers to place bids on my Maine Woods Tree, too. It's for a good cause!
The live auction runs from 5 to 7 pm on December 2nd. If you cannot attend and wish to place bids on the Maine Woods Christmas Tree, you may do so here by entering your bid in the comment section below beginning now. Bids must be in at least $1 (USD) increments. Online bids will be accepted through 6:45 pm on Tuesday, December 2nd.
I will continue to moderate comments, so your bid will not show immediately. However, over the few days I'll pay special attention to moderating comments in a timely manner.
In the event the online bid exceeds any bids placed at the live auction, the online bidder wins. If the online bidder can travel to Milbridge, they may have the entire tree with ornaments. If the online bidder cannot travel to Milbridge, the ornaments, lights and container only will be packed and shipped to the winning bidder. Shipping is included in the bid price to any address within the United States. Outside the United States, the winning bidder will pay the actual shipping costs.
The winning bidder will be provided with a link on the WHRL web site to pay for their winning bid via PayPal. Payment must be made within 24 hours of notification that you are the winning bidder. If payment is not received by that time, the tree/ornaments will go to the next highest bidder.
Have I covered all of the details? Questions? Just ask!
Here are the ornaments on the tree. Click on the thumbnails to view larger images.