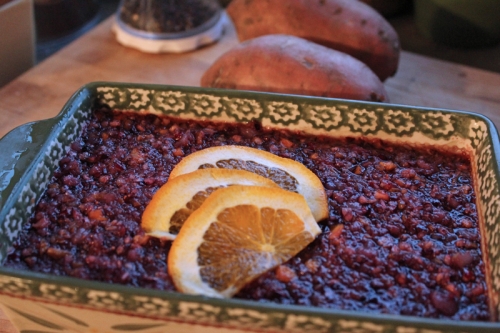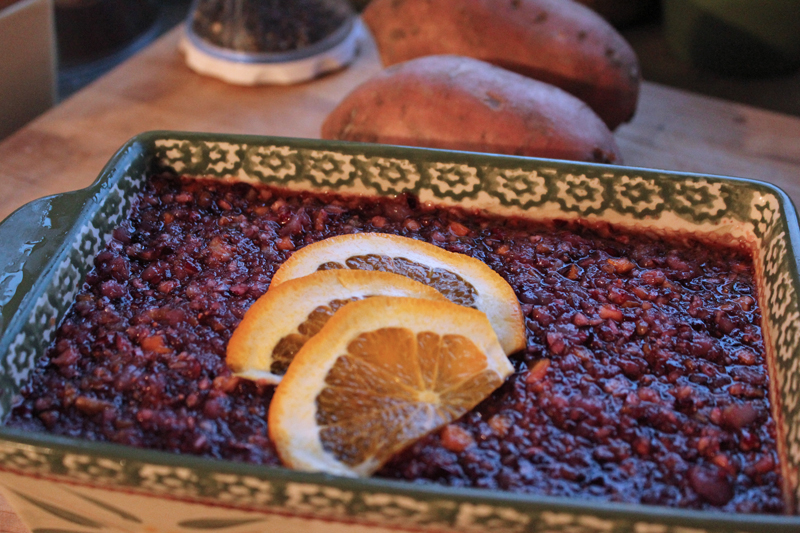 I never met my maternal great grandmother, Estelle Strobel. Yet, she is part of every Thanksgiving in our home. I don't know where she got the recipe for her Cranberry Salad, but it's been a holiday staple for every generation in our family since.
1 pound of cranberries
1 orange (yes rind and flesh), cut in cubes, seeds removed
2 cups of sugar
2 stalks of celery, diced
1/2 to 1 cup of chopped pecans
1, 8 ounce can of crushed pineapple, un-drained
2 boxes of cherry or black cherry jello (do NOT use the sugar free type)
2 cups of boiling hot water
In a food processor, chop the cranberries and orange. Place them in a bowl, pour the sugar in, give it a stir, and then let it sit for a few hours. This gets the fruit's juices running and sweetens the berries.
To the cranberry/orange mixture add the pineapple, celery and pecans. In a separate bowl, pour the boiling water over the jello; stir until fully combined. Pour the jello mix over the cranberry mixture; stir well, then pour it into a 13 x 9″ dish. Chill until firm.
Cut into squares. Mom serves the salad with a small dollop of Miracle Whip on top. I enjoy it simply plain.
To get a jump start on Thanksgiving cooking, I made our batch today. Since it'll be just the three of us, I made a 1/2 batch.
I hope it lasts until Thursday!