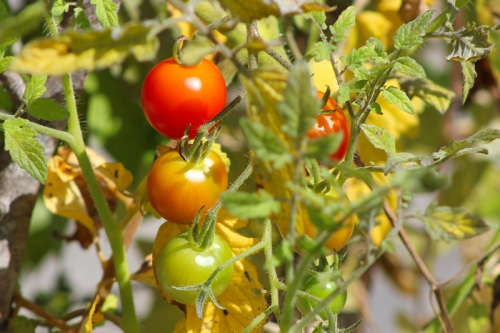 Tonight I discovered the absolute joy of roasted cherry tomatoes. I've never done this before, but the cherry tomatoes are coming in faster than I can use them on salad. If you haven't done this, they are WONDERFUL.
I cut the cherry tomatoes in half, tossed them in a bowl with olive oil, salt and pepper and then spread them on a baking sheet covered with aluminum foil – skin sides down. Baked at 450 degrees for 20 minutes, they were so good that I could have eaten them by the spoonful right then.
Instead, I made a fresh pasta with a little bit of this and that. Here?s an a guesstimate of the measurements.
1 chicken breast half, sliced thin, sprinkled with salt and pepper
3 cloves of garlic, chopped
3 scallions, chopped
1/2 cup of Chardonnay
1 teaspoon, chicken bullion paste
2 ounces of feta, diced
6 ounces of angel hair pasta cooked
a handful of Parmesan cheese
6 or so fresh basil leaves thinly sliced
Cook up the sliced chicken breast in a tiny bit of olive oil; when fully cooked, set aside. In the same pan, saut? the garlic and scallions; deglaze the white wine and add the chicken bullion, tomatoes and chicken; heat until warmed. Add the feta and cooked angel hair. Toss. Serve up and top with the Parmesan and basil.
Why didn't anyone tell me that fresh roasted cherry tomatoes were so good? I often avoided cooking with fresh tomatoes because I don't like the way the tough skin curls up – and peeling tomatoes before cooking with them is a hassle. Silly I know, but the cherry tomato skins didn't do this. They were tender, sweet and tasty.
A wonderfully delectable meal inspired by my garden – fresh tomatoes, garlic, scallions and basil. The meal was so good, we were finished before I thought to take a photo. Who knew it would be so note worthy?
Now I'm wondering about other ways I can use roasted cherry tomatoes. Have you roasted cherry tomatoes before? What did you do with them?