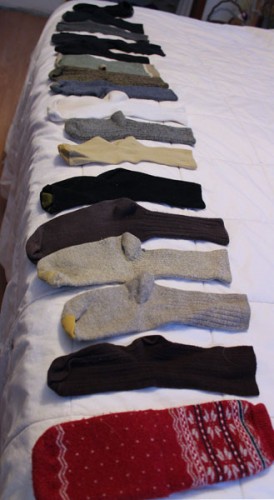 Do you have lonely socks? I have lots of lonely socks. Before I had a cat, I blamed lonely socks on the dryer. These days I blame Purfessor Snape, aka Boo. Boo has a sock fetish. He'll steal matched sets out of the sock drawer if you leave it open even a crack.
While rearranging Hannah's room the other day I found a couple of my missing socks under her bed.
I discovered the true status of The Lonely Sock Club today when I finished a monster load of laundry. I often toss the unmatched socks onto my dresser to be matched up later. Today I gathered them all with the hopes of matchmaking. I found seventeen – count 'em 17 – lonely socks!
So I immediately went to Hannah to inquire if she too had lonely socks.
Maybe Roo's lonely socks and my lonely socks can hookup and become pairs.