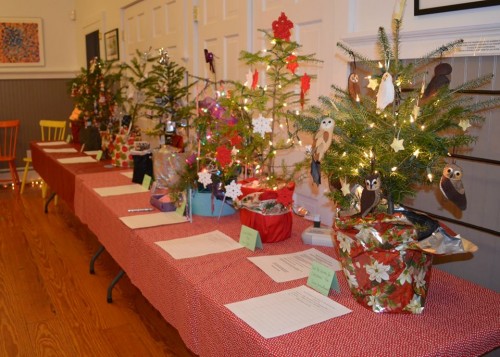 I created this Owl Be Home For Christmas tree (pictured far right) for the Women's Health Resource Library's Christmas Tree Auction & Festival. For weeks I worked on these owls in snippets of stolen time here and there. When I delivered my finished tree to the library, I was sad to see it go. I had an empty nest – the little owls seemed a part of me.
My tree received the highest bid, by just a few dollars (Yahoo!). I was delighted with the fact that my owls were so well received, especially given some of the other lovely trees donated to the event. However, it's what happened next that truly warmed my heart.
The winning bidder for the owl tree was Helene. After paying for the tree, she drove to Janis' home and delivered the tree. Janis had bowed out of the auction when the bids surpassed her budget.
Helene gave the tree away.
Now understand that Janis is a special woman. She volunteers in so many different ways, but hesitates to accept help when the tables are turned – even when she's recovering from knee replacement surgery. She is the first to help a friend. The first pick up the torch for a worthy cause. Janis also designed a tree for the auction decorated with her beautiful hand-crafted dichroic glass jewelry.
Helene's incredibly generous gesture brought tears to my eyes. I was further touched when Janis called to thank me for making the owls. Janis lost her husband to cancer a few years ago. What I didn't know was how special owls were to she and her husband. She told me that her husband had once cared for an owl with a broken wing and they often went out owling at night, calling to the owls. For Janis, the owls represent a connection with her husband – a reminder of the the time they shared together.
I couldn't think of a better home for my owls.