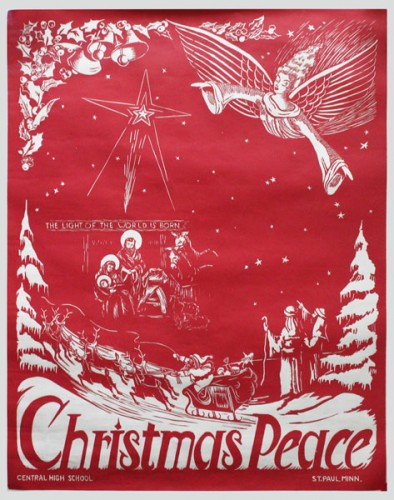 My grandmother's aunt, Elizabeth Stroble, created this beautiful linoleum block print when she was an art teacher at Central High School in St.Paul, Minnesota (1940s-1950s). Carved with the help of her students, she sent these to family and friends as her Christmas card.
This poster is titled "Christmas Peace" and reads "The Light of the World is Born." The design is a curious mix of Christmas themes with Santa in his sleigh, along with the wise men, angel, and nativity.
I hope Peace touches your life this Christmas. Wishing you and your loved ones a very Happy Christmas!
Susan
Past Christmas linoleum block print posts:
24 Dec 2012
24 Dec 2011
24 Dec 2010