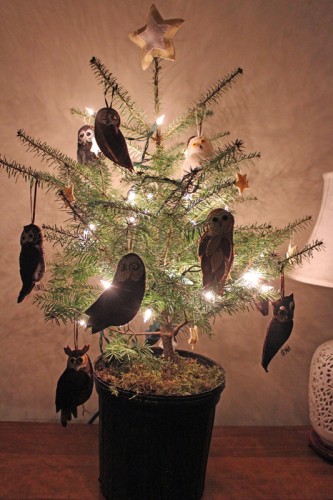 I have created this Owl Be Home for Christmas Tree for an auction that will benefit a local non-profit group. This 3′ tall table-top Christmas tree features ten of my original felt owl ornaments. Each ornament is double-sided with feet fashioned from wire and sewn into the ornament. A double felt star tops the tree and six little felt stars sit among the owls.
The auction for this and 25 other beautifully decorated trees is Tuesday, December 3rd. I thought it might be fun to allow readers to place bids on my owl tree, too. It's for a good cause!
So here's the nitty gritty on this experiment.
The proceeds of the auction will benefit the Women's Health Resource Library in Milbridge, Maine. This organization is near and dear to my heart. The mission is to advance and promote the health and well being of the woman, the family and the community. This is accomplished through programming, special events and a blog on health and wellness topics. I served as the board president for a couple of years and now work there a few hours a week managing communication efforts including the web site and blog. You can check out the site here: www.whrl.org.
The auction at the WHRL will run from 5 to 7 p.m. on Tuesday, December 3rd. If you cannot attend and wish to place bids on the Owl Be Home For Christmas Tree, you may do so here by entering your bid in the comment section below beginning now. Bids must be in at least $1 (USD) increments. Online bids will be accepted through 6:45 pm on Tuesday, December 3rd.
I will continue to moderate comments, so your bid will not show immediately. However, over the next week I'll pay special attention to moderating comments in a timely manner.
In the event the online bid exceeds any bids placed at the live auction, the online bidder wins. If the online bidder can travel to Milbridge, they may have the entire tree with ornaments. If the online bidder cannot travel to Milbridge, the ornaments only (owls, stars, and lights) will be packed and shipped to the winning bidder. Shipping is included in the bid price to any address within the United States. Outside the United States, the winning bidder will pay the actual shipping costs.
The winning bidder will be provided with a link on the WHRL web site to pay for their winning bid via PayPal. Payment must be made within 24 hours of notification that you are the winning bidder. If payment is not received by that time, the tree/ornaments will go to the next highest bidder.
Have I covered all of the details? Questions? Just ask!
Here are the owls on the tree, front and back views. Click on the thumbnails to view larger images.