Today is my father's birthday.
With me living so far away, the times we spent this day together have been far and few between. I can't be there today, but I'm planning a visit to Pennsylvania next month. (Hopefully – between camp, braces and volleyball practice!)
My dad is a very special man. He was my first love. He's my biggest fan and strongest supporter. Somehow he can always make things seem better, even when they are looking bleak. We'll go for weeks with phone conversations that go like this:
Ring, ring. "Hello." (Somehow I always know it's him before he says hello.)
"Hi Dad."
"Hi. Let me get your mom. Love you."
Then I'l call one day, mom will be out, and we'll talk for an hour.
I'm not very good at remembering birthdays or anniversaries (even my own). Since marrying Paul, I've lived in "vacation land" of one sort of another, so I've leaned toward experiential birthday presents – a boat trip, whale watching, an airplane ride. In recent years that's been hard to do – it's been a while since Dad's been this far north. If you listen to him tell the story, I live in the arctic tundra where the mail is delivered by dog sled.
With my anniversary on the horizon, I recall one of Dad's most memorable birthdays. In my mind.
Paul and I lived on Cape Cod when we married in 1997. The Wednesday before the wedding, I gifted Dad with a glider ride over the Cape for his birthday. Dad was an aviation major at Norwich University, although his military career took him in another direction, so I was pretty pleased with this gift idea. I even paid the instructor a little extra for some acrobatic maneuvers.
From all accounts, he had a fantastic time.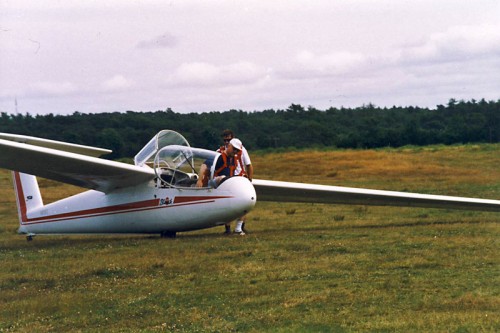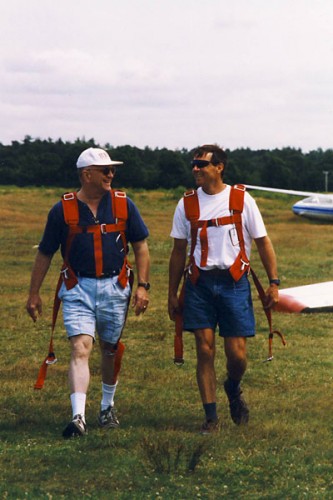 Later that night, we called 911 for an ambulance when Dad complained of chest pains. (Three days before the wedding!) He joked with the EMTs as he made his way to the ambulance under his own steam. He spent the night at the hospital while they ran tests and compared EKG results with those from his home doctor. By the next morning, when all the tests looked good, the doctor sat down with Dad and started looking at things from a different perspective. What had he been doing lately? Anything out of the ordinary?
Dad said, "Well, my daughter sent me up in a glider for my birthday. We did a few acrobatic maneuvers. Maybe pulled a few Gs."
The doctor said, "Pulled Gs? How many Gs?"
"Oh, maybe 4?"
"At 61 you're flying around pulling 4 Gs? You my friend, have muscle strain," the doctor concluded, and released him.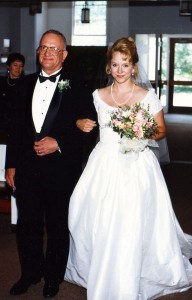 My fear of walking down the aisle without Dad by my side faded away.
So, no Gs for Dad this year, but I hope he knows that I'm with him in spirit!
Happy Birthday, Dad!
Save