The morning sunshine quickly faded to a cool steady drizzle. Despite the weather, I had garden chores on my to do list. With so little free time, I didn't let the rain stop me.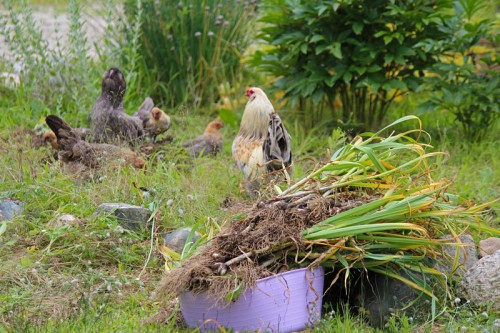 I harvested garlic. The Banties moved in as soon as I cleared the bed, scratching and exploring in the newly turned up soil.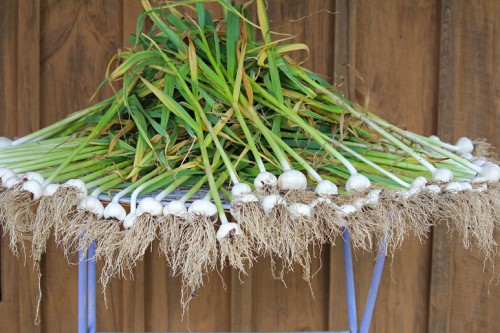 My garlic cleaned and drying on the table under the porch.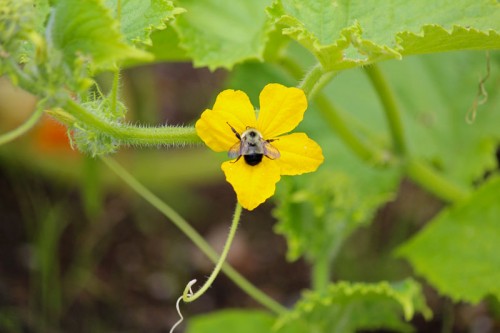 I'm not the only one toiling in the rain – this bumble bee was hard at work in my cucumber.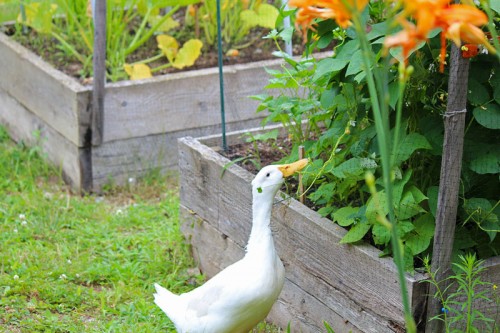 I caught Oscar nibbling at my green beans.
In addition to the garlic, I battled loopers in the Kale beds. I pulled one under-performing bed of Kale out all together and planted beets and turnips in its place. In the other bed of Kale, I harvested down to the tender center leaves and discarded the harvest in the compost pile. With luck, the plants will continue to produce – looper free – if I keep my eye on them.

I filled out the rest of the beds with Kohlrabi, another round of radish, more carrots, and lettuce.
The drizzle finally turned to steady rain, so I came inside, dried off, and curled up on the sofa for a nap.