This is our second year producing Maple syrup for our family at Downeast Thunder Farm. We tapped 12 Maple trees in early March. Forty-three gallons of sap later, we're boiling. With only one reference year, this is a good year compared to last year's 25 gallons of sap.
Last year we boiled down over an open fire – ash and embers flying everywhere. The floating ash gave our syrup a distinct smoky flavor. So Paul set out to finagle a better (cheap and safer) evaporator.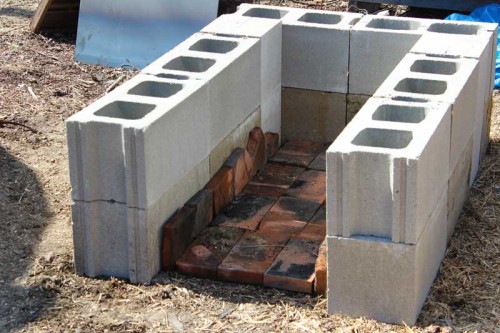 He make this "u" shaped oven that we lined with some used fire brick.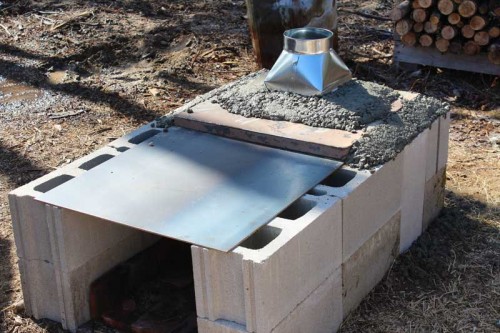 To the top of that he added a sheet of steel for the pans to sit on. The back of the oven had another piece of steel (cut from an old rusty metal desk) with a flue. We added concrete around the base of the flue to add weight and seal the edges. Remember this is just temporary – not a permanent installation.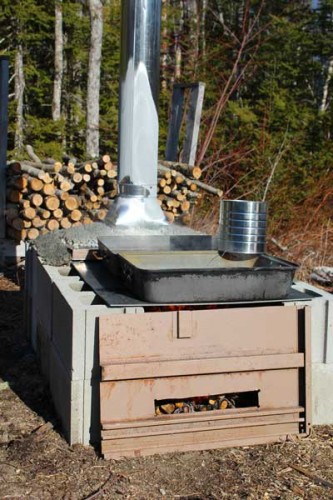 Here's a finished evaporator. Another piece steel liberated from the desk served as a makeshift door. We spent ten hours boiling down just ten gallons of sap on the first day. Paul determined that a design change was in order – there wasn't enough heat transfer between the steel plate and the pans.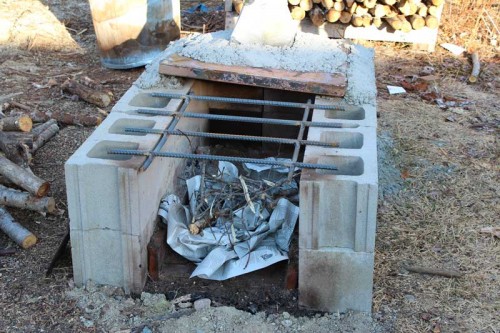 For evaporator version 2.0 Paul cut and welded together some re bar to create a grate to hold the pans. This puts the heat directly on the pans.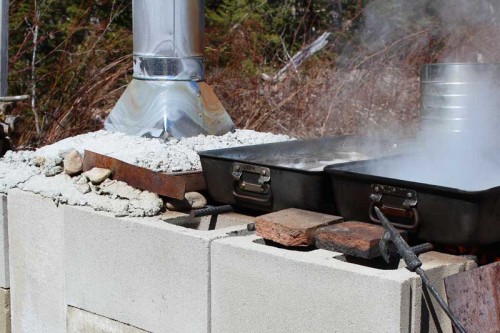 This configuration was much more efficient. We boiled down 14.5 gallons yesterday and 19 gallons today. The draft through the flue kept the ash from floating around and dropping into the syrup.
Hannah and a friend didn't miss the opportunity to roast marshmallows for 'smores.
I may have had a few, too.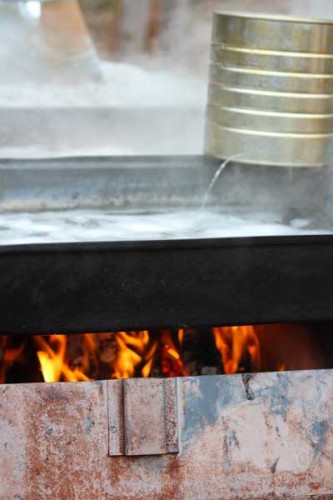 As we fed the fire and watched the sap boil, Paul and I did a little day dreaming about a real sugar shack with a professional evaporator. The woods behind the house are predominately Maple – at least for 300 feet out. We could selectively harvest the Oak and Pine leaving just the Maples to flourish for future sap production.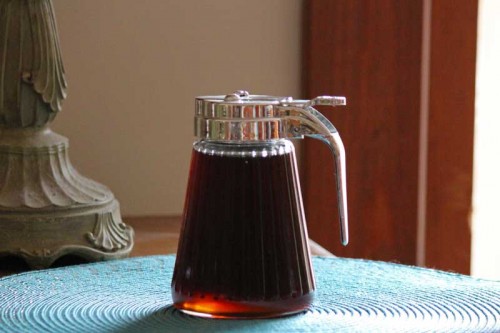 Each day we boiled the sap down to under 2 gallons. From there we moved indoors and finished it off on the stove. The end result is 1-1/4 gallons of this very dark, thick, tasty syrup. All Mapley flavor minus the ash overtones.
Pancakes anyone?