Making Chicken Corn Chowder is one of my favorite ways to use leftover chicken. It's quick to put together and it's filling enough to serve as a meal for Paul along with a salad.
In this instance, I was feeling a bit corny and introduced Hannah to corn fritters – something I don't recall having since I was a child. They were just as unhealthy and tasty as I remembered!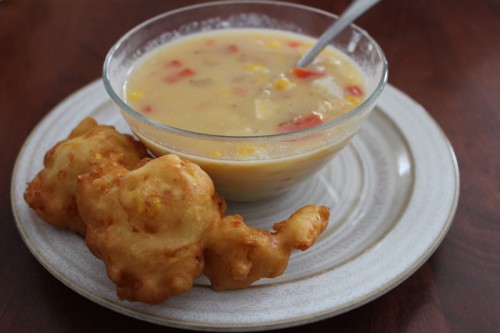 Downeast Thunder Farm Chicken Corn Chowder
1 tablespoon olive oil or bacon fat
1 large onion chopped
32 ounces chicken broth
1-2 large potatoes, diced
1-7 ounce jar roasted red pepper, chopped
(these give the soup a mellow smokey flavor)
1/3 cup flour
2 cups milk
3 ounces cheddar, grated (Gruyere is also good)
2 cups fresh or frozen corn
2 cups leftover shredded chicken
1 teaspoon salt
freshly grated black pepper
In a soup pot, saute the onion until tender. Add the chicken broth, potatoes and roasted red peppers. Bring to a boil, then reduce heat and simmer covered until the potatoes are tender – about 15 minutes.
Blend the flour in the milk with a whisk and stir it into the soup. Stir in the corn, chicken and grated cheese. Allow the entire mix to thicken, stirring occasionally until the cheese is melted and the chicken and corn are thoroughly heated. Add salt and pepper.
Enjoy!