There's no way you could have missed the talk of the Nor'easter named Nemo heading toward the Northeast. It seems like every time I turn the news on, the projected snowfall has risen by an inch. Here's a snapshot to show where we are in this mess.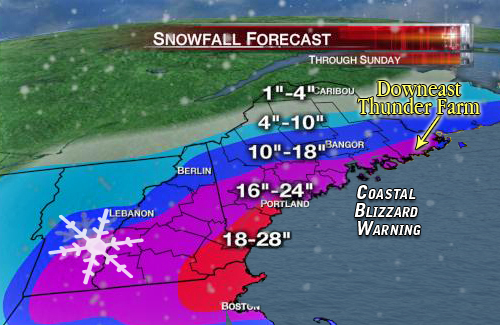 We spent the day getting ready:
Paul installed a new battery in the tractor to make sure it runs on Sunday when we need it to dig out.
We made a run for fuel for the plow truck, tractor, and generator (just in case – let's hope we don't need it).
A quick grocery market run to stock up on all those goodies we don't need, but make waiting out a storm so much fun.
We gave the new chain saw a workout cutting wood to make sure the wood boiler is well stocked.
Paul wrapped the mailbox in neon orange tape with the hope the town plow driver will notice it and not run the box over. Again.
We gave the chickens some extra rations of cracked corn to keep them happy – they refuse to venture out into this white stuff!
I filled all the feeders to make sure birds have plenty to eat should they decide to visit.
Hannah and I made molasses cookies – we might need that extra energy for shoveling – if they last till the storm gets here!
Every major snowfall this year has produced more snowfall than the weather man predicted. One can only hope that's not the case this time. Here's hoping you're someplace safe and cozy this snowy weekend!