This is vacation week and sadly, we've all been a bit under the weather. Hannah and Paul have "The Crud" for the second time around and I've finally succumbed. Needless to say we haven't been doing a lot of fun vacationy kinds of things so far this break.
Hannah, however, is beginning to come out of the slump. And she's bored. When Hannah's bored, she tends to cook. Tonight was no exception. She made these amazing meatball subs.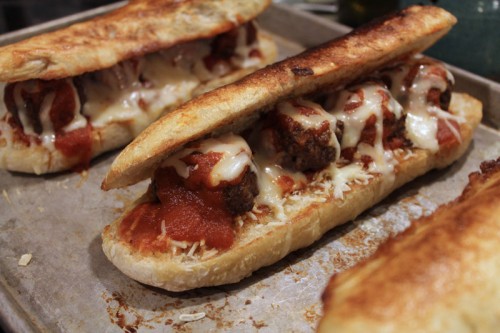 13-year-old Hannah (aka Roo) made homemade French bread rolls. She sliced the rolls and grilled them so they were nice and crispy on the outside and soft and yummy on the inside.
She filled the rolls with meatballs she made from scratch with a recipe from The Looneyspoons Collection cookbook (thanks for the cookbook Granny Gadget, it's her favorite!) and topped them with canned marinara sauce, Monterrey Jack cheese, and popped them under the broiler.
They were amazing. I am now wearing my comfy penguin lounge jammies with the elastic waist band because I ate the whole thing.
And did I mention that for lunch she made us homemade broccoli cheese soup?
I'm not sure I can let her return to school next week and go back to "What's for dinner, Mom?"