My addiction to felt birds started this time last year. At loose ends after the holidays, I sat down with my computer and created the Chickadee. Over the course of 2012, my felt flock grew to 41 birds.
The patterns started with birds common to the farm and coastal Maine. Then came birds I simply liked but don't see in my yard (the Snowy Owl), and then on to birds from other regions of the country suggested by readers (the Kingfisher).
I use a Wacom Bamboo digital tablet/pen and Adobe Illustrator to draw the birds. I start by drawing the complete bird and then break it down into pattern pieces. Often after I make the bird in felt, I find that I have to go back and rework the pattern. What works on screen does not always work in felt.
Over time, I became as hooked on photographing these little birds as with creating them. I have fun finding an appropriate outdoor perch in which to photograph them.
Once a bird is completed, it seems a shame to let the pattern linger only on my computer, so I share them with readers here on my blog. This blog, created with my family in mind, suddenly had a crazy international following.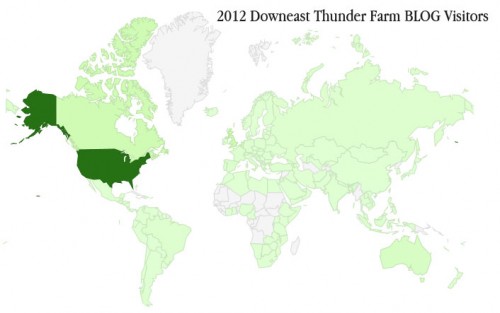 Clearly, the love of nature and birds is a theme that crosses borders, languages, cultures, and politics.
It is gratifying to know that these little felt birds and patterns bring happiness to others. It is even more heartwarming when I learn how people are sharing their Downeast Thunder Farm bird creations.
Ginette said these have inspired her to pick up needle and thread again
Michelle is making magnetic birds for her niece
Melinda's homeschooled children are combining bird knowledge with sewing skills
Nancy, who lives on a small pension, made these birds for her Christmas gifts
Janelle's 2nd grade daughter made a hummingbird to go along with her school project
Allisa, whose mother is recovering from cancer surgery, said these bird sewing projects have lifted her mother's spirits
Kathryn, a librarian, is going to make some of the birds to use for story time at the library
Debbie made the Christmas Dove to share with residents at a nursing home
Sue has them hanging in the window of her father's room at the nursing home and one for everyone in her book club
And most recently, Edie wrote:
I have been asked to make a Christmas tree full of your birds that will be auctioned off next Christmas in a "tree walk" (they will have 20 to 30 theme trees to sell and I understand that they sell at good prices which are really donations). The proceeds will go to a local children's hospital, which is really a good cause.
I couldn't agree more, Edie. I cannot think of a better use for my bird patterns!
Thanks for visiting and sharing your Downeast Thunder Farm creations. I've posted a new page to share the pictures readers have sent of their DTF bird creations. Click here to look for some additional inspiration. If you you
And so the addiction continues with the first felt bird of 2013 – a Pileated Woodpecker.