Written on the 21st with pen and paper – posted online at the library.
It's December 21st, the Winter Solstice, and I sit here writing this post by candle light. The wind outside is roaring like a freight train and rain is pounding on the roof. We lost power (telephone & internet, too) shortly after dinner. Candles are burning in mason jars, emergency flashlights at the ready.
It's too dark and nasty to venture outside and drag the generator from the garage around to the back of the house to hook up. Tomorrow will be soon enough for that. Thankfully, it's not very cold out and the house holds the heat well.
We donned our muck boots and slickers and braved the elements to see what we could see in the dark. The neighbors down the road have power. We do not.
It's funny how most days I long for peace and quiet respite from the dueling televisions that sometimes play. This evening, when I cannot have the television, suddenly I want it. It's Friday night and Gold Rush is on.
A few years ago, I purchased an emergency radio with a built-in hand-crank generator at L.L. Bean, so we tuned in to the news and weather for a bit.
I really wish I'd charged my Nook today! I'm sure I have an old-fashioned book around here somewhere.
Saturday?
Both Paul and I were up early this morning – 5:00 am. There was no coffee perking, no lights, no news to watch. We laid snug bed and talked, planning our day until it was light enough to make our way around the house.
Paul headed to the gas station for generator fuel and coffee. I started exploring outside between downpours. Here's what I found.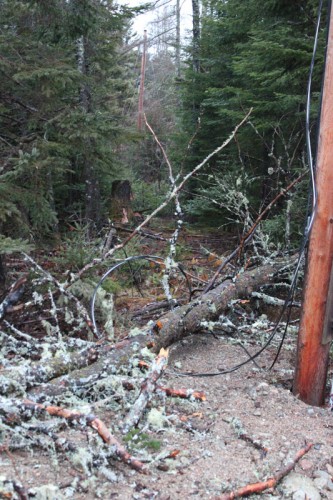 This is the old tree I wrote about in October. That piece of farm history is gone -along with the power, phone, and Internet. Paul returned with coffee. We started up the new generator my folks gave us for Christmas just a few weeks ago. Yay Mom and Dad!
With heat and water online, and our one kitchen outlet powered by the generator, we made a most welcome hot breakfast of turkey bacon, blueberry pancakes, and enough coffee to last us throughout the day. My Nook charging, I called the electric company for an update. 4800 homes are still without power. They are hopeful that we will have power today, but no promises. And, if we don't have power by 10 p.m. we won't have it until Monday because the line workers would be required to take a break by then.
Paul and I headed out into the rain and cut up the old tree to free the power and phone lines. Paul and Hannah had planned to go Christmas shopping, so I encouraged them to follow through with that while I finished a felt bird I was making for a friend's birthday, while waiting hopefully for Bangor-Hydro.
It's a little sad how much we depend on electricity. Every room I went into I hit the light switch. Our house is loaded with tall windows, but on a stormy day like this that doesn't help much. No lights on the Christmas tree, no television, no iPod. Nook finally charged, I plugged in the iPod and listened to Christmas tunes while I sat in the kitchen sewing by the window. My thoughts wandered through what to cook for dinner using my one kitchen outlet. A roast in the pressure cooker finally won.
Chances are we'll have power by Christmas. When Hannah returned, with her infinite thirteen-year-old wisdom she said, "It doesn't matter if we don't have power, as long as we're here together and safe." And then she added, "And we each have something under the Christmas tree." And finally, "And if the Christmas tree lights can be on."
Here's keeping my fingers crossed!