My mind didn't fully focus on Thanksgiving this year until the last minute. This last week, full of meetings and a trip to Portland left me a bit discombobulated.
Almost two months ago, Mom (aka Granny Gadget) sent us a CharBroil Big Easy Smoker. It sat in the mudroom, unopened until last night. Paul set it up for me and then announced it didn't come with wood chips for smoking. I sent him racing out to the local everything store in search of wood chips. Mission accomplished.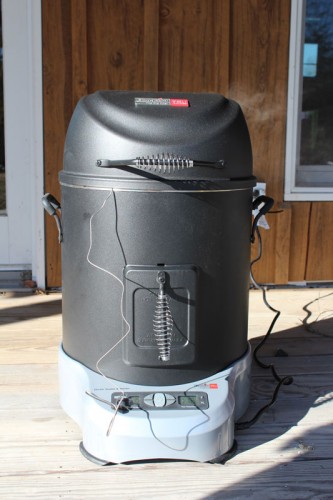 Thanksgiving morning came bright and sunny. We planned dinner for 1 o'clock and got the turkey started with the temperature probe placed in the thigh. Things were rolling right along. The turkey, stuffing, mashed potatoes, biscuits, gravy, green beans, etc. finished cooking just before one.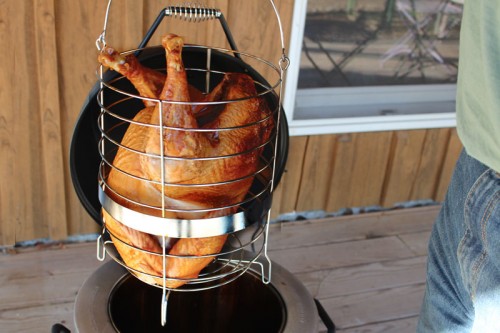 We brought the turkey into the kitchen only to discover that while the turkey thighs were 165 degrees, the breast was only 105 degrees. Huh. Back into the smoker went the turkey.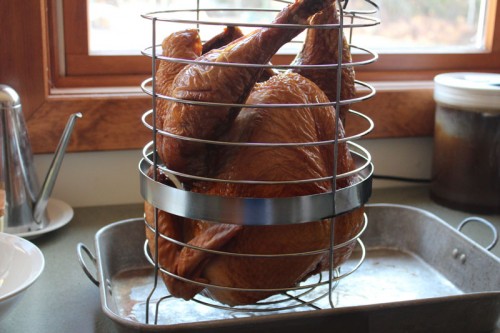 Two hours later, the turkey breast finally done, we reheated everything and sat down to eat. Just then, I realized I didn't make the sweet potato casserole – my favorite part of the meal!
Sigh. The important thing is that we all sat down together at the dining room table together. The turkey we raised over the summer was wonderful, but I think there may be a learning curve with the smoker.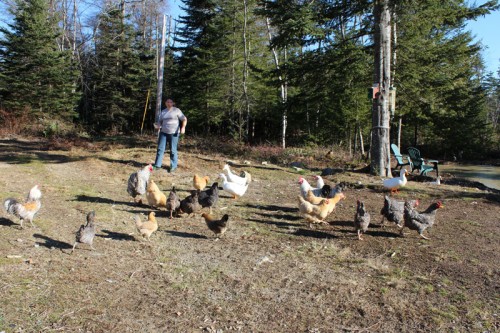 Even the chickens and ducks got a special treat on this Thanksgiving Day. Our veggie leftovers never seem to make it to the compost pile!