I have been cursed blessed with naturally curly hair. Only a mother with fine, straight hair could wish this on their daughter. Mine did. Of course, she had help.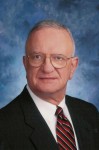 Dad has naturally curly hair. He wears his in a crew cut.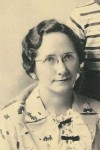 Grandma Jordan, born in 1900, had naturally curly hair. She kept hers short and had it permed – probably because it was the fashion back then. Boggles the mind.
My mane has been the bane of my existence. Until a few years ago I habitually straightened it with a blow dryer, sometimes following up with a flat iron. When I hit my 40's and left the corporate world, I began to let nature take over and go curly.  As much as I love a smooth straight style, most of the time I don't have the time or patience to go through the necessary motions.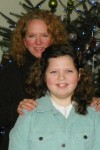 Hannah (age-13), much to her dismay, has inherited the family curls. Lucky for her there are actually products on the market now to nurture thick, curly hair.
Curly or straight, I am always searching for the magic shampoo, conditioner, or goop that will keep my curls soft, smooth, and in check. I used to purchase salon products at the recommendation of my stylist du juor.
Lately my budget has been more of the drug store variety. After much trial and error, I've found that there are budget-friendly products that work as well as the salon products on my unmanageable curls. So when my publishing network BlogHer offered the opportunity to test and review Dove's Daily Moisture conditioner, I was game!
My hair really absorbs conditioner. Some conditioners are just not rich enough – my hair sucks it all up and there is nothing left to leave my hair feeling good when rinsed. So I tend to go for thick conditioners.
The Dove bottle reads, "Nourishes dry, rough hair to restore softness." And, "weightless formula."
Dove's Daily Moisture conditioner feels very light when I massage it in. The first time I tried it I thought "uh-oh," but when I rinsed my hair it felt wonderfully silky and combed out with ease. It has a clean fresh smell that I like – it isn't overpowering.
After a few days of using the conditioner, it disappeared from the shower. I went on a search and found it in Hannah's bathroom. She loves the conditioner and says her hair feels smoother, shinier and "flatter" after she washes it. When you have hair like ours, "flatter" is a good thing. Trust me! I think what she really means is that her curls are less frizzy and more controlled. I'd have to agree. With hair like ours, less frizzy translates to good hair day.
The only negative came from Hannah who thought the cap could be a little easier to open.
Dove Daily Moisture is a winner in our house, so it looks like I'm going to have to buy my own bottle.
*  *  *
So what's your hair woe?
Tell us and enter to win a $1,000 Spafinder gift certificate!
NO PURCHASE NECESSARY
COMMENTS TO THIS POST ARE NOT SWEEPSTAKES ENTRIES. PLEASE SEE BELOW FOR ENTRY METHODS FOR THIS SWEEPSTAKES.
You may receive (2) total entries by selecting from the following entry methods:
a) Follow this link, and provide your email address and your response to the Promotion prompt: What's your hair woe?
b) Tweet (public message) about this promotion; including exactly the following unique term in your tweet message: "#SweepstakesEntry"; and then visit this link to provide your email address and the URL to that Tweet.
c) Blog about this promotion, including a disclosure that you are receiving a sweepstakes entry in exchange for writing the blog post, and then visit this link to provide your email address and the URL to that post.
This giveaway is open to US Residents age 18 or older. Winners will be selected via random draw, and will be notified by e-mail. Winners will have 72 hours to claim the prize, or an alternative winner will be selected.
The Official Rules are available here.
This sweepstakes runs from 9/4/2012 – 9/30/2012
Be sure to visit Dove®Hair.com to get a coupon for $1.50 off Dove Hair Therapy products.