This isn't a fashion blog, but I couldn't let this pass. A package arrived from Mom today (aka Granny Gadget). Now and again Mom will surprise me with little goodies – a pretty scarf, a blingy purse, fun earrings, etc. She knows that I don't really have the time or inclination to do much shopping and will send thoughtful gifts along.
Enter the leopard print slippers.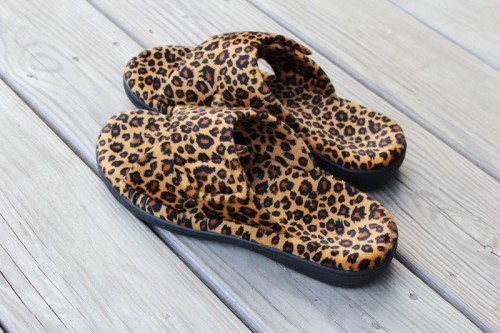 Am I really a leopard print kind of girl? There's not a single animal print in my closet. Doesn't something like this require Spandex and big hair? Big hair is a given, but I'm definitely not a Spandex kind of girl.
Her motivation was this: Podiatrist-designed, biomechanical orthotic footbed with deep heel cup helps stabilize, support, and realign feet back to their natural position. She's taking care of me from afar. They're fuzzy, adjustable, and non-slip. And comfy.
So I guess I'm now a leopard print kind of girl. Hold the Spandex.