This morning I used the last of our blueberries picked last week in this blueberry coffee cake that has become a family favorite.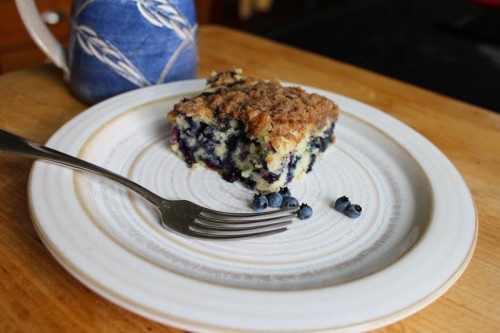 Downeast Thunder Farm Blueberry Coffee Cake
The Batter
¼ cup canola oil
½ scant cup of sugar
¾ cup skim milk
1 ½ cups unbleached all-purpose flour
2 ½ teaspoons baking powder
1 teaspoon salt
1 teaspoon finely grated lemon rind
1 ½ cup wild blueberries
Streusel Topping
3 tablespoons cold butter
½ cup light brown sugar
1 teaspoon cinnamon
1 rounded tablespoon of wheat germ
Method
Preheat oven to 375°.
Lightly oil a 9×9-inch baking pan.
Whisk together the oil, sugar, milk and egg.
Combine the flour, baking powder and salt; mix into the wet ingredients until well incorporated.
Fold in the blueberries and lemon rind. I wash the fresh blueberries and dry them in a bowl lined with a tea towel – tugging the towel back and forth to roll around the berries. Before adding them to the batter, I toss them with 1 teaspoon of flour.
Pour the blueberry batter into the pan.
Put the streusel toppings in a bowl; cut and combine with a pastry cutter until you have the consistency of rice; sprinkle topping evenly over the batter.
Slide into oven and bake for 25 minutes.
Enjoy!