This recipe has been on my mind for a while now since I've been looking for recipes that use eggs. A snowy Saturday seemed like a good time to finally make Challah, or braided egg bread. I studied a number of different recipes and worked up this version that turned out quite tasty on the first go!
The ingredients are flour, water, oil, eggs, salt, yeast, and Agave nectar. I've been using Agave in place of sugar lately and it works great. You cannot tell the difference and it has a lower glycemic index than does sugar.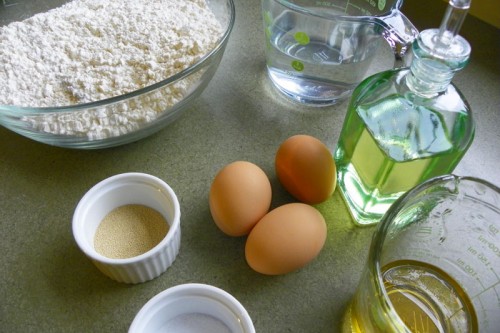 Because I don't enjoy kneading I let the Breadman Bread Machine that Granny Gadget gave us do the hard work.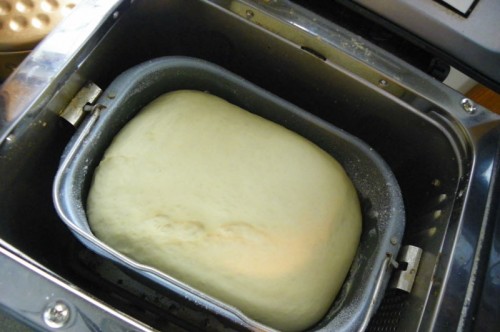 The dough was very easy to work with and braid.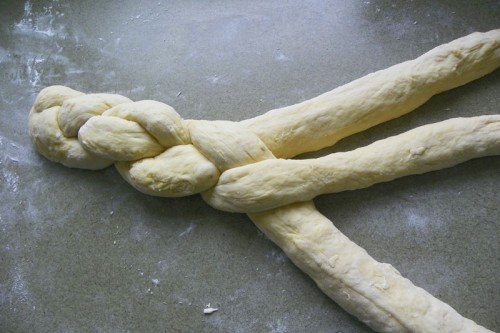 Another rising and an egg wash and it's ready for the oven. I think I muddled up my braiding pattern in the beginning there!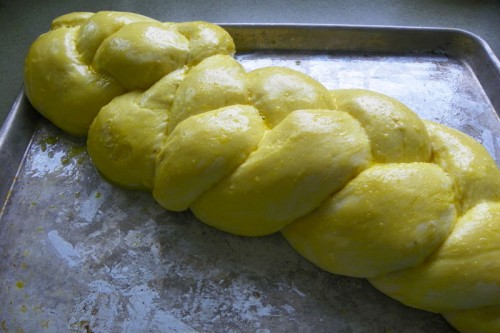 The beautiful finished loaf!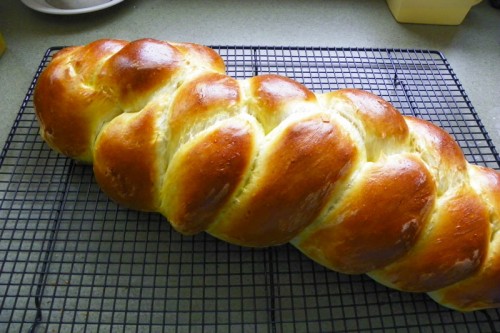 Downeast Thunder Farm Egg Bread
4 cups flour
1 1/4 cup water
2 Eggs, lightly beaten
1 1/2 teaspoons salt
1 1/2 teaspoons yeast
1/4 cup Agave nectar (or sugar)
Dump all of the ingredients in no particular order in the bread machine. Process on the dough setting. Once it has finished, removed from the bread machine and divide into three pieces. On a lightly floured surface, roll each piece out until it's long and about 1 inch thick. Press the ends of the pieces together and then braid, finishing the loaf by pressing the pieces together at the other end. Transfer to a buttered baking sheet.
Let rise for 1 hour, covered by a tea towel. When it has doubled in size (at least), brush with an egg wash (1 egg yolk and 1 tablespoon of water).
In my convection oven the bread baked at 350 degrees for about 20 minutes. I think I could have lowered the temp to 325 degrees and baked it for a touch longer. For a regular oven you might try 375 degrees for 30-40 minutes.
When it's beautifully golden, remove from the oven and transfer to a cooling rack.
We've nibbled on this all afternoon and tomorrow we'll turn it into French Toast!