New Years Eve I made this very yummy Spinach Artichoke Dip.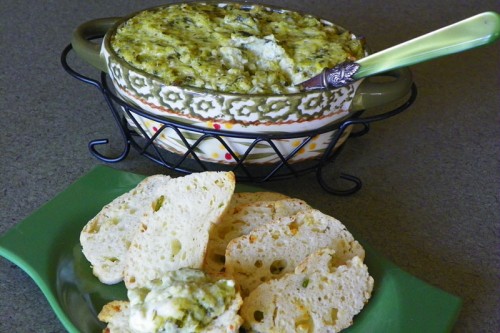 I love the warm creamy texture with just a little bite of jalapeno.
Downeast Thunder Spinach Artichoke Dip
1 – 8 ounce block of cream cheese, softened
3/4 cup mayonnaise (the real deal – not light or Miracle Whip)
1 cup fresh grated Parmesan cheese
1 tablespoon lemon juice
2 packed cups of fresh spinach
1 – 14 ounce can artichoke hearts, drained and quartered
1 – 4 ounce can of jalapeno slices, drained
salt and pepper to taste
In a food processor, process the artichoke hearts, spinach, and jalapenos until the artichoke is in small, bite-sized bits. Transfer to a bowl and mix in the cream cheese, mayo, Parmesan, lemon juice, salt and pepper until combined. Spread into a medium size baking dish and bake for 35-40 minutes at 350 degrees.
Serve with flat bread or little toasts. Here I sliced leftover onion scones and lightly toasted them.
Since it was just the three of us on New Years Eve, and Hannah is suspect of artichoke hearts, I split the batch into two smaller baking dishes. We warmed the second dish up on New Years Day. I think I could live off this stuff!