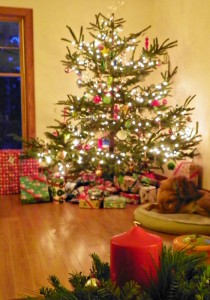 Santa didn't come to our house this year.
I knew the cat was out of the bag when Hannah asked me with a knowing smile, "Why do you have Santa's wrapping paper stashed in the storage room?" You see, Santa wraps presents in this special Santa gift-wrap with computer-generated name tags. No give-away mommy handwriting on the tags; Paul and I take our Santa duties seriously. Since that first revelation from Hannah, she has talked very openly about the reality of Santa.
There was no letter to Santa this year. On Christmas Eve, Hannah forgot to track Santa on NORAD. She forgot about reading The Night Before Christmas (we talked about the birth of the baby Jesus and the gifts bestowed upon him by the three wisemen). She forgot to put out the carefully iced sugar cookies for Santa. The gig is definitely up. My Hannah is growing up.
Christmas Eve found Paul and I feeling a bit let down. While I had my gifts stashed in my closet, there was no struggling to stay awake until Hannah fell asleep. No sneaking around to artfully display presents. No wolfing down Christmas cookies at midnight. No reindeer food scattered outside on the snow to lure Santa's sleigh to our home. No magic dust residue on the living room floor, evidence that Santa really was here even though we don't have a fireplace.
Some of the magic left Christmas this year.
Hannah still had a tough time getting to sleep on Christmas Eve with the excitement of it all. Yet she was up before dawn (you may have received a Merry Christmas email from her at 5:45 a.m.). We had carefully negotiated the time should could wake us up to 6:45 a.m. Turns out that Paul was up before then enjoying the quiet of the morning with his coffee.
For me, the magic of Christmas returned when I saw Hannah's excitement over giving gifts, rather than receiving them. So excited she was by her choices for us, she insisted I open the first gift. It was her handcrafted version of the Downeast Thunder Farm mom and dad owls. I love it!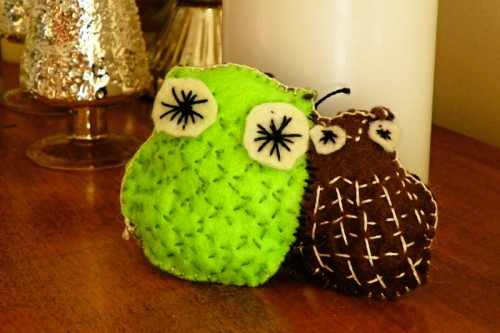 For the first time, Hannah purchased her gift for us with her own money. She insisted that it wasn't right to for us to give her money to pay for our gifts. She earns a small allowance of $5 per week and from that contributes $5 each month towards her cell phone bill (we split the cost of her phone). She has been saving the balance for a while. She's growing up.
In addition to the treasured hand-made owls, Hannah gave me a beautiful pottery mug (she knows my love for unusual pottery mugs) and a wonderful copper humming-bird thermometer for my porch.
For her dad, among other things, she purchased a computer game after downloading and testing no fewer than 10 games. She wanted to make sure that the game was challenging enough for Paul who tends to beat games quickly. I was amazed at the thought and planning she put into this gift. She only came to me for help when she didn't know how to pay for the online purchase.
We each got a pair of snowshoes that we will test for the first time today (we did have a white Christmas). Paul gave me a much longed for egg incubator. It's killing me to have to wait until spring to start trying to hatch baby chicks.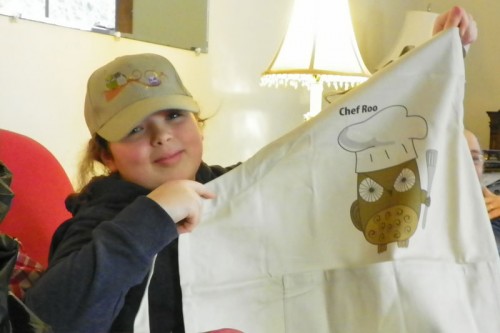 Despite the absence of Santa, we had a very Merry Christmas at Downeast Thunder Farm. The joy came from spending the day with those I love most.