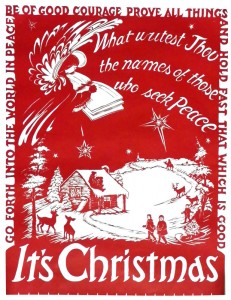 My great, great aunt, Elizabeth Stroble, created beautiful linoleum block print posters. She sent these to family and friends as her Christmas card.
Recently, ten of these prints came to me via my mother from another relative. At Christmastime, when I choose one to display in my home, it makes me feel a bit more connected to my family heritage.
This print is is from the 1940s and among my favorites. The little house tucked in the woods with the deer looking on seem reminiscent of our Downeast Thunder Farm.
Hold fast to which is Good this holiday season and all year through.
Merry Christmas!
More Christmas prints:
December 24, 2010