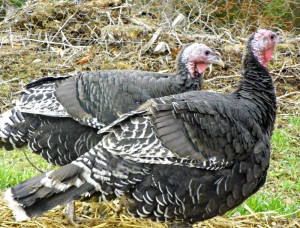 Today was turkey harvest day. We have been putting this off for a variety of reasons.
Too rainy.
Too cold – not exactly odd for November in Maine.
Too busy.
With Thanksgiving just four days away, we simply could not wait any longer. The fact is we liked the Turkey Dudes. They had personality. They talked to us – or to Paul anyway. Me they presented their backside. Maybe they know I'm the one with the roasting pan?
Harvesting the meat chickens over the summer was a learning experience, but it turned out not to be very emotionally difficult. The meat chickens were somewhat prehistorically ugly and they had no personality.  The Turkey Dudes on the other hand were colorful characters. As craggy as their appearance, they had pretty, gentle eyes. At one point, we even talked about keeping them on and buying that grocery turkey for the holiday.
Hannah moped around this morning with a pout. I spent a little time visiting with the Turkey Dudes this morning. Paul is mourning the loss of his evening visit with them.
I've come a long way since being reluctantly drawn into the meat chicken harvest. (You may remember they were supposed to arrive in my kitchen looking like they'd just come from the grocery.) The turkeys Paul and I worked on together. He dispatched and eviscerated them. I plucked, weighed and bagged.
Our two 3½ month-old turkeys weighed in at a total of 30 pounds dressed (without giblets, neck, etc.). Paul did the math and they cost us about $1.33 a pound – certainly more than the Butterball in the grocery freezer did. Local farmers are getting $2.50 a pound for locally raised farm fresh turkey.
While we didn't save pennies with this experiment, we can be proud that our turkeys were raised with respect. They were a fun part of our lives for a few months and we enjoyed them more than ever expected. When raising our own food, we learn to not take it for granted.
Was raising our own turkey worth it? I'll report in on the Thanksgiving taste test!
Here's a little tribute to the Turkey Dudes.
Other Turkey posts…
25 Sept 2011: The Turkey Dudes Move Out
29 August 2011: Chris and Thanks at Three Weeks
10 August 2011: Gobble, Gobble!
Save