I spent the afternoon inside an outdoor wood furnace.
The experience wasn't on my list of things to do this morning, but there I found myself. What I won't do to help Paul out of a tight situation (literally).
The fancy, super-efficient, Central Boiler outdoor wood furnace we were so excited about two years ago has caused more than a little anxiety this year. We use the wood furnace  to heat the water that flows through our radiant floor heating system. It has kept us toasty warm for two winters and has heated our potable water in the winter as well.
The problems started when Central Boiler started sending "fixes" to design problems they discovered with this newfangled furnace. If it was a car, these fixes would be "recalls." Central Boiler sends you instructions for fixing your own $11,000+ furnace. This spring when Paul cleaned out the furnace, he found cracks in the steel around the air inlets. And, the steel-plate exhaust shutoff door fell right off the bracket that operates it.
I know Paul has been worrying over this all summer. Today he worked on welding the cracks around the air inlet. Next came welding the exhaust shutoff door back on to the bracket. The question was how to reach that spot way inside the boiler.
"Sweetie, do you have time?" he said.
Of course, I said, "I've got time for you!"
And look where that got me.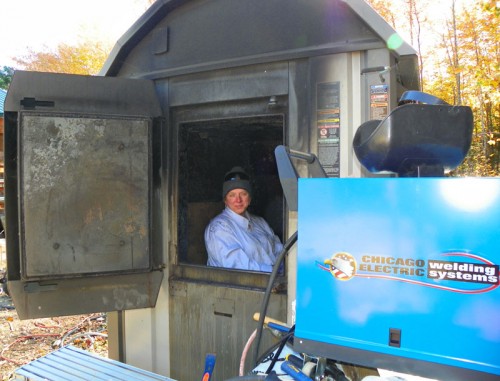 With any luck, this monster lemon furnace will get us through another winter without more repairs. I don't relish climbing back in there anytime soon!