For the weekend, anyway.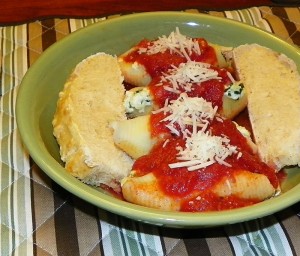 My Hannah (12 years-old) has turned into quite the little chef. She's taken to watching cooking shows rather than cartoons and is particularly taken with Food Network's Chopped and The Next Iron Chef. Come weekend time she is in full cooking mode.
Last weekend it was Stuffed Shells one night and Lemon Roasted Chicken the next. We had a false start with the shells the other week because she didn't realize that she was supposed to cook the pasta shells before filling them. This round of stuffed shells, filled with a spinach-cheese mixture and topped with marinara sauce, was cooked to perfection. The Lemon Roasted Chicken, a recipe she found online, was to die for.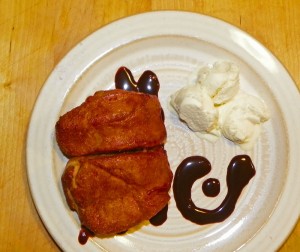 Last night is was homemade cinnamon bread plated with chocolate swirls and vanilla ice cream. "Does cinnamon and chocolate go together?" she asks. Yummy. Yes, it does, Sweetie.
She's using words like "plated" and debates if freshly grated Parmesan from a block is better than the pre-grated stuff I tend to buy. She searches for recipes on the Internet. She raids my pantry and makes grocery lists for me.
What are the pros and cons of Hannah's newfound hobby? I don't have to cook as often. On the other hand, my kitchen looks like this.